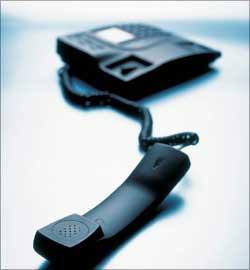 If you're looking for a complete mockery of any form of fair play, look no further than what telecom minister A Raja is trying to do with the help of the very regulatory process that's supposed to keep the ministry's interference to the minimum.
Ironically, he is also inverting the manner in which the regulatory process functions - in this case, he has got a reference from the Telecom Dispute Settlement and Appellate Tribunal which is now going to be refereed by the Telecom Regulatory Authority of India.
The current TRAI chief who has been handpicked by Raja, it is surely no coincidence, is one of the men who delivered this TDSAT judgement. I the judge, I the jury!
In April 2007, the government asked TRAI for recommendations on whether new players should be allowed in the mobile phone market. The TRAI, to its discredit, gave a wishy-washy recommendation and Raja cherry-picked from even this and, on September 24, 2007, issued a press note inviting applications for new licences with a last date of October 1, 2007.
It got a total of 575 applications and, on January 10, 2008, issued another release saying only applications received till September 25, 2007 would be considered. In between this, on October 19, 2007, it also cleared Reliance Communication's request for spectrum under what was called 'dual technology' policy - a CDMA-mobile firm like Reliance could get cellular-mobile spectrum of the type Vodafone had, and vice versa - and then announced this policy a day later.
Naturally, existing cellular mobile phone companies went to TDSAT protesting various aspects of what had happened. The TDSAT gave a curious judgement, but that needn't detain us here.
What's important are a few gratuitous lines in the TDSAT judgement: "It is therefore puzzling as to why TRAI recommended a no cap policy on the number of service providers. In our view, DOT would be well advised to review this policy." Gratuitous, since no one ever questioned the TRAI recommendations on the new entrants - but irrelevant, you'd think.
Not quite. Two other things that have happened since will make this clear. On July 1, 2009, the Delhi High Court gave its judgement in the case where S Tel said it had not got its licences due to the arbitrary cut off policy.
It had applied on September 28, 2007, well within the original cut off date for applications, but got rejected after the January 10, 2008 press release said only applications till September 25, 2007 would be entertained.
The court has asked the Department of Telecom to consider S Tel's application for spectrum. It has also asked the DoT to consider S Tel's offer to pay Rs 17,752 crore (Rs 177.52 billion) (that's a typo in the judgement, the actual figure was Rs 13,752 crore (Rs 127.52 billion)) over and above what the government was charging - S Tel made this offer in December 2007 since it felt Raja was giving away the licences for a song (the subsequent transactions by some of the favoured firms who got licences proves S Tel was right).
This has sent a chill down Raja's spine - if he has to give a licence to S Tel, he has to give it to others as well. And he cannot do that since he has no spectrum, without which the licences are useless. If he considers the S Tel offer of extra payment, his whole game will unravel and, since the courts are involved, even the ever-obliging Manmohan Singh will find it difficult to do a Dhritarashtra anymore.
This is where the TDSAT's foresight comes into play. Raja's ministry has sent a letter to the TRAI, last fortnight, asking it for recommendations. On the no-cap policy! The letter says there are so many players that there is a shortage of spectrum (this was as true when Raja brought in the new players) and refers to the TDSAT line on why the TRAI had recommended a no-cap policy and that the DoT would do well to review it!
So, the man who wrote the TDSAT judgement is now going to give his recommendations on it - my prediction is the TRAI (under its new chief) will say the no-cap recommendation was now no longer valid and that, in view of the spectrum shortage, the September 25 cutoff was fine.
As Fury said to the mouse in Alice in Wonderland, "I'll be judge, I'll be jury ... I'll try the whole cause, and condemn you to death." If only Raja could get those pesky high courts to stay out of the way.