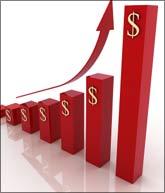 The earliest that credit demand will revive is 2010-11, and this year's growth is unlikely to be more than 12-14 per cent, says Rahul Chhaparwal.
Banking-sector credit grew at unprecedented rates during the five years to 2007-08, backed by a rising Gross Domestic Product (GDP). On an annual basis, overall credit grew at 27 per cent, retail advances at 32 per cent, and corporate and other non-retail advances at 26 per cent over this period.
However, subsequently, credit growth declined to around 18 per cent in 2008-09. Crisil expects the credit growth to be in the range of 12-14 per cent in 2009-10 because of the economic slowdown.
Expected slowdown in credit growth
The global economic downturn has had its repercussions for India. The Indian economy grew at 6.5 per cent in 2008-09, and is expected to grow at around 6 per cent in 2009-10. Correspondingly, credit growth will also deteriorate sharply. (see graph)
Crisil estimates that credit growth will be around 12-14 per cent for 2009-10. This expectation is based on the recent steep slowdown in retail advances, and the reduced borrowing appetites of companies.
Further, in an environment where loan losses are beginning to mount, lenders have become far more cautious than they were previously when it comes to lending to micro, small, and medium enterprises -- the classes of borrower that are considered most unsafe.
They have also become wary of incremental exposures to real estate, gems and jewellery, textile, leather, auto-ancillary, and non-banking financial companies.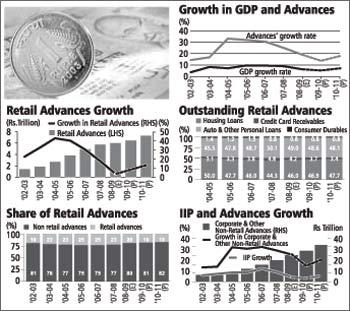 Sharp decline expected in retail advances
Crisil's analysis reflects that growth in retail credit slowed sharply to around 4 per cent in 2008-09 from the peak of 42 per cent in 2004-05. The growth will revive, albeit marginally, to 8 per cent in 2009-10 and to 13 per cent in 2010-11.
The decline in retail credit growth is on account of reduced demand for all retail sub-segments. The demand for mortgage loans slowed down due to high property prices and high interest rates. In the auto loan segment, the decline reflected weak demand for the underlying asset, and deteriorating asset quality.
A sharp rise in delinquencies and recovery-related problems has forced financiers to nearly suspend their small-ticket personal loans. The overall personal loan market is expected to contract over the coming years, but a few relatively large-ticket personal loans will continue to be made.
Because of high interest rates, and property prices scaling high levels, mortgage loan disbursements began to slow down in 2007-08 itself: The stock of outstanding mortgage loans as on March 31, 2008, grew by 12.5 per cent over the figure for March 31, 2007, while the corresponding figure in the previous year was a much higher 25 per cent.
This trend has continued into 2008-09; the growth in the mortgage loan stock reduced even further, to 8 per cent. But with interest rates declining, and the recent correction in the property prices, the growth in loan stock is expected to increase by 2 to 4 percentage points, to a figure of 10 to 12 per cent annually in 2009-10 and 2010-11.
The slow growth in mortgages and vehicle loans, vis-a-vis faster growth expected in non-retail advances, is expected to lead to a decline in the share of retail advances to 18 per cent of the total advances in the system in 2010-11, from the peak of 25 per cent in 2006-07.
Corporate and other non-retail advances growth also declining
From the peak of 11.5 per cent in 2006-07, the Index of Industrial Production (IIP) growth declined to 8.5 per cent in 2007-08 and softened further to around 3.9 per cent in 2008-09. IIP growth is projected to be around 3.4 per cent in 2009-10.
This will have an impact on the credit growth in the corporate and other non-retail advances. Funds have become scarce in both Indian and international markets; credit default swap (CDS) spreads of companies have expanded significantly, making it difficult for them to raise funds globally.
Banks in India have also adopted a conservative approach towards incremental lending. As a consequence, companies have slowed down their expansions, and are expected to borrow mainly for meeting working capital requirements.
The cumulative effect of these factors is reflected in slowdown in credit growth -- as on July 3, 2009, the year-on-year credit growth came down to 16.3 per cent as against 25.5 per cent as on July 3, 2008.
This is despite the Reserve Bank of India (RBI) and the Government of India (GoI) announcing several stimulus packages since November 2008 and RBI reducing repo rate by 300 basis points (one hundredth of a percentage point) since October 2008.
Crisil believes that the Indian banking system will witness lower credit growth during 2009-10. This slowdown will be driven by very low incremental growth in the retail advances portfolio, with some categories within retail expected to contract, and lower growth in the corporate and other non-retail advances categories.
The retail advances slowdown is a result of increased delinquency levels, and the slowdown in the sales of the underlying assets because of the economic slowdown. A lower growth in the corporate advances reflects the slowdown in the economy.
As the economy picks up, which Crisil expects it will from 2010-11, credit growth rate will revive, but the heady days of 30-per-cent-plus advances growth are probably over.
******
The author is Manager, Financial Sector Ratings, Crisil