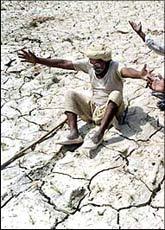 India should not allow millions to suffer the ill effects of a drought because of official apathy or sluggishness, says T N Ninan.
One of the notable episodes of Rajiv Gandhi's leadership of the government was the manner in which he dealt with the drought of 1987. Action was taken quickly, and it was taken purposively.
All the relevant governments were mobilised in near war-like fashion, and what might have been a massive human and livestock tragedy was dealt with with an admirable degree of success--so much so that the critics began saying it hadn't been such a bad drought in the first place!
More than two decades later, the government seems to be sleepwalking into another potential drought. The met department has been making reassuring assessments, as has the agriculture minister, Sharad Pawar.
But as Shreekant Sambrani has written in these pages, the met department has been saying things that are at odds with what various weather websites and weather experts internationally have been saying about the monsoon this year.
Put plainly, we have a problem on our hands. It might or it might not develop into a full-blown drought, but the government does not seem to be mobilising to deal with the possibility.
No one should minimise the impact of a drought. It is not just a question of foodgrain being available -- which fortunately is the case now because of the good procurement of the last couple of years, on account of last year's record harvest.
People need money with which to buy grain, and the spread of the national rural employment guarantee programme should be a blessing in such a situation.
But neither the NREG programme nor the public distribution system have the reach required, so more needs to be done.
Then, there is the question of fodder for cattle, which invariably are the ones that suffer the most in a drought--and cattle are often a poor man's main asset in the countryside. If they die in large numbers, millions of people get impoverished.
There is the question of inflation--in items like pulses, which are grown on rainfed soil and which cannot be imported in sufficient quantities. The prices of pulses have already begun to surge. For good measure, the country's sugar stocks have virtually dried up, and the next crop in October is expected to be sub-optimal.
Seeing the possibility of India becoming a major importer, global sugar markets have responded by sending prices shooting skyward. With food price inflation already a problem, the coming months will present fresh challenges.
On top of everything else, there is the impact that a drought will have on rural demand--which has been buoyant so far because of bountiful harvests, and which therefore kept many businesses going through the crisis months of the last year.
Businesses that depend on rural demand will face depressed market conditions if the kharif harvest is seriously impacted.
The numbers may not show up significantly in GDP calculations; agriculture now accounts for less than 18 per cent of GDP, and both good as well as bad years make little difference to the overall growth numbers.
The problem therefore is not GDP but everything else -- generating income for people to buy grain through make-work programmes, supplying the grain where it is not available, moving fodder to the drought-prone areas to make sure that cattle can survive, taking care of water shortages, importing without delay and as much as possible the items where there could be a domestic shortage, and doing all this with the consciousness that, 62 years after gaining freedom, India should not allow millions to suffer the ill effects of a drought because of official apathy or sluggishness.