The government's decision to downplay the monsoon's failure has only worsened its credibility and will lead to a worse panic, says Shreekant Sambrani.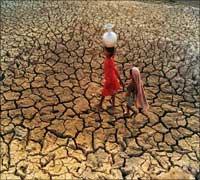 Some things never change. My previous column ('No doubt, It's a drought', July 16) began with a reference to the Prime Minister finally being briefed about what some of us had known for some time, and so must this one.
A below-normal rainfall for almost the entire country and a consequent substantial (25 per cent) fall in kharif paddy sowing is not exactly breaking news. Neither is the relatively remote possibility of the remainder of the monsoon providing any major relief. One sincerely hopes that the various admissions and announcements by the Prime Minister on August 8 could mitigate the situation to some extent, but given recent history, there is a real danger of this being a case of too little, too late.
Right from the start of the current monsoon, the two main agencies of the government dealing with it, India Meteorological Department and the Ministry of Agriculture, have been busy spreading false cheer and talking down the looming drought.
IMD had rushed headlong into declaring the onset of the monsoon at the fall of a stray shower - that was because it had predicted an early monsoon. By the end of June, according to IMD, the monsoon had covered virtually the entire country, even though most of India was reeling under sunny skies and intense heat; the month's precipitation was less than half the normal.
Throughout July, IMD continued to reassure us that the errant monsoon was behaving itself and the shortfall was rapidly diminishing - all on the basis of questionable averaging of rainfall across regions and the country. The excess rainfall in one location, at one time, can compensate for the scanty precipitation at another if and only if the geography or hydrological structures (dams, canals, etc) permit it.
Otherwise, the downpour in one area runs off to the sea and the other remains parched. Thus, surplus rain in Mahabaleshwar cannot satisfy the water needs of Malkapur in the same state, leave alone Muzaffarpur in Bihar. IMD's averaging implies otherwise!
In addition, the IMD's pronouncement of reducing rain deficit in July is based largely on one region - central India - receiving excess rain to the extent of 80 per cent of the normal for the week in just one week alone, from July 15 to July 22.
The rest of the period, for almost the whole country, is a dismal story of below-average precipitation. Even in central India, the excess is largely confined to Konkan, coastal Saurashtra and coastal Orissa, the rest being mostly deficit areas.
At the end of July, IMD grudgingly and indirectly admitted that there is a break in the already bleak monsoon; however, just a couple of days before the PM's meeting, its Pooh-Bahs assured television audiences that it was only the mid-point of the season and things could improve in the second half, instead of saying that the even though the monsoon is more than half-way through, things do not look good; we are already over 25 per cent short of the normal precipitation to date.
The Agriculture Minister, Mr Sharad Pawar, is reported to have said as late as July 31 that he expected 'some shortfall' in rice production.  There is a 25 per cent drop in acreage and two-thirds of the current area was sown in the last three weeks of July.
This young crop will clearly suffer due to the a continuing absence of rain, which also means that the present trend of reduced sowing is likely to persist. Lower area and poorer yields this year could together lead to a considerably lower (by as much as 30 per cent) kharif paddy crop than that of last year, barring miracles.
A 20 per cent fall in the groundnut area should also add to his worries. So Mr Pawar understated the obvious, without even referring to contingency plans he had earlier mentioned.
With this dismal record so far, let us ask some uncomfortable questions:
One, since questions regarding monsoon were raised publicly as early as the beginning of July, why did it take the government another five weeks to wake up to the reality?  Even if some of us were crying wolf (we were not), could a Plan B not have been kept in readiness? In the happy event that we were to be run out of town for being false harbingers of bad news, that plan could have been shelved without any cost. As things are, we have lost valuable time.
Two, what was the agriculture ministry's reason for being in the denial mode, with assurances of imminent revival of the monsoon? Not pressing panic buttons is fine, but making overly cautious statements not likely to be borne out would cause a severe loss of credibility and lead to a worse panic.
Three, are shortages and the resultant price rise (the process has already begun and will only accelerate with the PM's admission) the only consequences of the impending drought? A vast majority of the country's 110 million rural households dependent on agriculture will suffer a loss of income, which was already low to begin with. Should we not immediately address the question of relieving their misery to whatever extent possible?
Two long-term actions also must be taken up immediately:
First, IMD's obsessive concern for long-term forecasts dating back to the late 1980s, was wrong even then (some of us said so at that time), but it has persisted with its associative model building ever since, acquiring a super computer and a bloated budget in the bargain.
It now stands exposed in its new clothes. Its long-term predictions are not based on cause-and-effect relationships. Nature itself does not know the situation more than three weeks in advance of the event. Our intrepid IMD rushes in where wise men fear to tread.
In April, it publishes a forecast for normal rains between June and September, which it revises downward in June, with precise forecasts for July and August (with a 'comforting' margin of +/- 9 per cent, so how could it lose?). Nature decides, in due course of time, not always mindful of IMD's predictions.
There are many things that could be done and need to be done. Making broad predictions of the weather for smaller regions and shorter periods is both feasible and realistic. This must be IMD's prime concern and not its misplaced space- and time- aggregation.
Otherwise, the ranks of those who no longer trust IMD (ranging from Mumbai Municipal Corporation to a group of farmers in the arid Solapur district of Maharashtra) could only swell.
Besides, agricultural planning must move away from fair-weather forecasts.  In a sub-continental land mass, prevalence of uniform weather conditions over the country as a whole is extremely unlikely in any year.  Droughts and floods, one hopes, would be localised, but we must not allow widespread monsoon failures such as the current one to catch us by surprise.
I had asked Mr Kapil Sibal, the then Minister for Science and Technology, in these columns two years ago whether he was listening. I must now address that question to the Prime Minister.