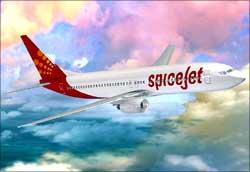 Bubble economies don't last, and crises bring you back to reality. The truth of both these assertions has become manifest in recent weeks.
Consider the sectors where demand first nosedived, and has now revived automobiles and housing as well as other sectors where business models based on high-flying customers have been turned around.
In all of them, businessmen see more clearly than before that the fortune lies at the bottom of CK Prahalad's pyramid.
Among the airlines, Air India is the last and the latest to have the light bulb go on; it will now join the club heading for the low-cost end of the market.

This seems a no-brainer when Spicejet and Indigo, the two leading low-cost carriers, are making money while Jet and Kingfisher (favourites for those flying club class) swim in red ink.

But it should have been obvious a long time ago that if the growth in the aviation sector was coming from a lot of first-time flyers who were upgrading from trains because air fares had dropped, then the market segment to go for was the bottom end, which is what Spicejet and Indigo did.

For different reasons, Jet and Kingfisher bought low-cost carriers and recently converted some of their regular fleet to the LCC bracket. Air India has now decided to do the same.
What is true of the airlines is true of the car companies. India has no shortage of premium carsmade more premium by our tax laws, so that a Honda Accord in India costs what a Mercedes does in some other markets.

That's fair enough, you might say, because the roads are crowded and if someone wants to take up more road space, let him pay for it. But the important point is how more and more car companies realise that the market here is for sub-compact hatchbacks.

That should have been obvious, of course, given that the three biggest car makers in the country (Suzuki, Hyundai and Tata) owe their success to their focus on hatchbacks, but all those rosy numbers on GDP growth and income levels must have clouded other car firms vision.

Toyota, which came into India with the Qualis van and then the Corolla and Camry three-box models, is investing in a whole new plant to cater to the small-car market, and is about to launch a new model.
Volkswagen, which looked at India and looked again before it decided that it did not have a car for India, is now getting ready to roll out the Polo from a brand new factory. And so it goes on.
Ditto with housing. Time was when DLF, the country's largest real estate developer, could boast that henceforth it would focus on building homes that cost a crore of rupees and more. The headlines were made at the time by real estate cost comparisons between Mumbai and Manhattan.
Well, look at the advertisements now for new flats companies are offering 2- and 3-bedroom homes for between Rs 15 lakh and Rs 30 lakh, and finding takers. Indeed, the story is now about companies like Tata Housing and entrepreneurs like Jaitirth Rao trying to build homes that cost no more than Rs 7 lakh.
When one looks at the income-demographics curve for the future, it is obvious that the fastest percentage growth of consumers will still be at the top end of the market because a very thin upper crust will become a broader band.
The market for 10,000 premium cars could quintuple in a decade, to 50,000. But in absolute numbers, the real volumes will continue to be lower down the pyramid and there the car market will be in the millions. It is obvious where the serious money lies.