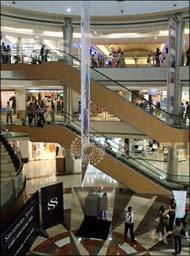 Notwithstanding the current concerns regarding the impact on consumer spending on account of a truant monsoon, India will see a spending of almost Rs 21 lakh crore (about $435 billion) at current prices in 2009 (assuming a GDP growth rate of 6 per cent).
Further, factoring in a 5 per cent inflation and assuming that GDP will further grow at 6 per cent, the consumer spending is likely to cross Rs 23 lakh crore (about $485 billion) in 2010.
However, a deeper analysis of this gross data on consumer spending throws up some very interesting insights.
For as long as we remember, roti, kapda aur makaan have been the primary needs and drivers of private consumption. Indeed, it seems that the impact of the sustained economic growth of the last 18-20 years is that for a very large part of the population, consumption has moved beyond the basic survival needs.
While food & grocery continue to account for the largest quantum of spending (about Rs 12.5 lakh crore in 2009), followed by healthcare (about Rs 165,000 crore) and textiles & clothing the third largest (about Rs 150,000 crore), the surprise numbers 4, 5, and 6 items on the consumer spending list in 2009 are spending on mobile phones and talk-time (about Rs 120,000 crore), jewellery & watches (about Rs 118,000 crore), and personal transport comprising two/four-wheelers including spending on fuel and repairs/maintenance (about Rs 115,000 crore).
This data, of course, is at some variation with the official data since this spending includes some through the parallel economy, but is more reliable since it has been arrived at "bottom-up" sector by sector.
More interestingly, the growth rates in spending on non-basic needs are much faster now and therefore it is likely that by 2012, spending on textiles and clothing could be relegated to the sixth spot and the hierarchy (excluding healthcare) will be roti, mobile, personal transport, and jewellery & watches.
The shift in consumer spending priorities does not stop here. The total outlay of the government on higher education is about Rs 9,600 crore.
The estimated revenue of the higher-education coaching market (including preparation for entrance examinations like JEE, CAT, GRE and GMAT) is about Rs 10,000 crore. If tutoring and other self-learning is included, the guesstimated private spending in 2009 is almost Rs 48,000 crore!
Spending on domestic leisure (and religious) travel and tourism is expected to cross Rs 60,000 crore in 2009, while the spending on consumer durables and consumer electronics is just about Rs 55,000 crore. Spending on leisure and entertainment in 2009 is about Rs 55,000 crore, nearly equaling the entire size of the personal and home care FMCG industry!
Other very fast-growing categories of consumer spending include personal computing (including internet) where consumers will spend almost Rs 10,000 crore in 2009, and personal grooming services where the spending is over Rs 4,000 crore already and growing in strong double digits.
There are several implications of these mega-shifts in consumer spending patterns. For the manufacturers and marketers, some of the imperatives include giving a fresh, much-deeper look into consumer and shopper behaviour using new age tools that go beyond traditional consumer/market research and then work the appropriate value proposition and delivery channels for their basket of goods and services.
For entrepreneurs as well as businesses seeking to diversify, the implications are that there are incredibly large new business opportunities though, perhaps, these opportunities will require new business models (product, channel, consumer connect, delivery).
Students planning their careers now would be well advised to study these new emerging sectors and plan accordingly. As is clear from the above, the sectors that are likely to create the most jobs (besides retail since most of this consumption will be facilitated through modern brick & mortar retail channels) are healthcare, telecom, travel & leisure, education & training, media & entertainment, personal grooming and fitness, etc.
The government itself has to get a much better understanding of these shifts since the implications are not only on its own revenue generation opportunities through direct and indirect taxation, but also in many other dimensions including vocational and higher education, and infrastructure (such as retail).
Image: People stroll a mall in Mumbai. Photograph: Punit Paranjpe/Reuters