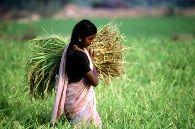 There is a pressing need for developing high-calibre talent focused on 'Food & Agriculture' technology and management, says Arvind Singhal.
Agriculture may contribute only 17 per cent or so (and declining in percentage terms) to India's GDP but the challenges it faces and therefore the challenge it poses for India's future is as humongous as the challenge of physical and social infrastructure.

In fact, there is a risk of getting sidetracked from the many dimensions of this challenge if the impact is seen only from the perspective of India's 55 per cent rural population, of which over 65 per cent are directly employed in farming.

Indeed, if India's politicians, planners and non-agriculturists do not take a more informed, more futuristic, and a more holistic view of this sector, we run the risk of facing mass socio-economic disruptions on the same scale as the drought-blighted years of the previous centuries.
Unlike anytime in the past, India's agriculture challenge has to be understood concurrently in many dimensions.

The most critical of these dimensions has to be in the context of India's population and its continued growth. In 1947, India's population was about 345 million.

In the last 20 years alone, we have added another 350 million to this, and at the current net growth rate, we would see an addition of yet another 350 million in the next 20, bringing us to almost 1.5 billion Indians by 2030 or so.

Beyond these raw numbers, a further analysis of this demographic profile is such that the calorific needs of the population will increase at the fastest ever pace in India's history as the median age moves up from 25 years to 35.

Beyond just the basic needs for energy, rising incomes and changing eating habits will dramatically alter what India consumes. Beyond the coarse cereals, India will want more protein, more edible oil, and more sugars in different forms including pulses, meat, dairy, vegetables and fruit.

Of particular "concern" will be the impact of rising consumption of meat that will require unprecedented quantities of production and diversion of grain for animal feed purposes (some meats apparently require as much as 10 kg of grains for animal feed for each kilogram of output).
A rising population itself has many other dimensions. The most important one is the pressure it is already putting on land.
The 350 million that India added in the last 20 years, and the 350 million or more it will add in the next 20, will need housing, public utilities, roads, parks, schools & colleges, hospitals, sports arenas, airports, railway stations, office and retail spaces, crematoriums and cemeteries, manufactured products, and other infrastructure that will all demand huge tracts of land.

Most of the human habitation, for obvious reasons, has traditionally been in those areas that are most fertile and hence conflicts will increase exponentially as the pressure on land increases.
A third dimension is the pressure on water resources. Beyond the need for large quantum of water for agriculture, a 1.5 billion-inhabitant society will have unprecedented requirement for water for its very basic needs, and then for the needs relating to infrastructure, be it civic amenities and utilities or manufacturing.
To manage this challenge, its gravity must be fully understood. Hence, either the government directly or a think tank like ICRIER should be engaged to study this agriculture challenge holistically and then action has to be recommended and urgent steps taken thereafter.
At the same time, the government has to be very careful in promoting agri-products exports since the need for foreign exchange should not come in conflict with domestic needs.

Further, to achieve higher value addition, the government should seriously look at branding Indian agricultural and food products (beyond Basmati and Darjeeling). With increasing popularity of foods from India, there is no reason that an "Incredible Indian Food" campaign cannot pay rich dividends.
And finally, while on one hand the farm sector's huge post-harvest losses have to be reduced through efficiencies in the supply chain, there is also a pressing need for the further development of high-calibre technical and managerial talent focused on "Food & Agriculture" technology and management.

The government can start by bringing agriculture technology to the mainstream of aspirational higher education by having some of the IITs start branches in the same. Likewise, more IIMs (beyond IIM-A) should be encouraged to introduce specialisation in these domains.