As Copenhagen has got going amidst more hope than was there initially, attention must shift to the massive task that lies beyond, says Subir Roy.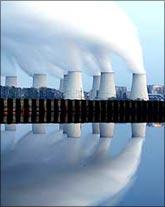 As Copenhagen has got going amidst more hope than was there initially, attention must shift to the massive task that lies beyond. After the politicians have just managed not to sink the world, the doers -- scientists, engineers, business people and you and me -- have to get down to taking it forward.
A good guide to what is possible lies in what has been the recent record. The latest International Energy Agency data (for 2007) paints a fascinating picture of how the world fared in the two years to it (2005-07). It gives us a clue to not just who are the leaders and laggards but also to who moved in which direction.
From this emerges a clear indication of who has to do what. Additionally, the division between the rich and the poor on cutting emission looks phony. The goal ahead for all is to become more energy efficient and cut emission rates in whatever we do.
As the accompanying table shows, the world has moved forward in both energy efficiency and carbon intensity of growth. But it has fallen behind in giving greater play to clean energy. Carbon dioxide (CO2) produced per unit of energy consumed has distressfully gone up for a majority of countries which matter, in general or to India (our sample), even as less energy is being consumed and less CO2 is being released per unit of income earned.
Effort has to be redoubled in capturing the energy in the sun and the wind and that which lies in the bowels of the earth (geo-thermal).
All countries (except Brazil, which has stayed at the same place) in our sample have made improvements in the energy intensity of income, measured in purchasing power parity terms, by bringing it down, but mostly marginally so. Those that stand out as bigger changers fall into two groups -- the bad boys trying to change their ways and the good boys trying to do even better. In the former category comes Russia and in the latter Norway.
Overall, absolutely the first boy remains Denmark, followed by Norway, Japan and Germany, and then Brazil, India and the Netherlands. On the other hand, Russia remains at the bottom of the class, followed by South Africa, the US and China.
But the bad news is that in two-thirds of the sample, more CO2 is being produced per unit of energy consumed at the end of the two-year period. However, a third has done better. Leading this pack of improvers is Brazil, followed by Sweden, with the rear being brought up by the marginally better players like the US, South Africa and Russia; the last three trying to improve their terrible record.
On the other hand, India and China have seriously fallen behind, as has Australia. Interestingly, one of the greatest fallbacks in percentage terms has been recorded by Norway, a leader on most counts.
FACT-SHEET
Energy, emission data of selected countries
 
Energy intensity

 


of PPP income (1)
CO2 emission to

 


energy consumption (2)
CO2 emission to

 


PPP income (3)
 
2005
2007
2005
2007
2005
2007
Australia
0.20
0.19
3.09
3.19
0.61
0.59
Brazil
0.15
0.15
1.57
1.47
0.24
0.22
China
0.22
0.20
2.95
3.08
0.65
0.61
Denmark
0.12
0.11
2.42
2.57
0.29
0.29
Germany
0.16
0.14
2.36
2.41
0.37
0.34
India
0.16
0.15
2.14
2.23
0.34
0.33
Japan
0.15
0.14
2.29
2.41
0.35
0.33
Korea
0.22
0.21
2.1
2.2
0.47
0.46
Mexico
0.18
0.16
2.21
2.38
0.4
0.37
Netherlands
0.17
0.15
2.24
2.27
0.38
0.34
Norway
0.18
0.14
1.15
1.37
0.21
0.19
Russia
0.47
0.42
2.39
2.36
1.12
0.99
South Africa
0.28
0.26
2.59
2.57
0.71
0.67
Sweden
0.19
0.17
0.98
0.92
0.19
0.15
United States
0.21
0.2
2.49
2.47
0.53
0.5
Notes: (1) tonne of energy to US$ 2,000 PPP income; (2) tonne of CO2 per tonne of energy; (3) kg of CO2 per
US$ 2,000 ppp income                                                                                                     Source: International Energy Agency
The real good news is that a halt has been put to the forward march of carbon intensity of growth -- CO2 generated per unit of income has declined over the two-year period. This being a fall in the average, the change at the margin will be much greater. As this was a period of global expansion, it means that the world is on its way to putting a cap on carbon emission, though it is not quite there.
If this can happen before Copenhagen, then the future is not so bleak. The outstanding good boy is Sweden, which has cut emission to income by a massive 20 per cent. Russia has also cut its rate sharply. The really poor performers are India and Japan. While for India, the 8 per cent growth can be an explanation, Japan does not have that excuse.