Ajit Balakrishnan writes about why learning the real values of human life is real education.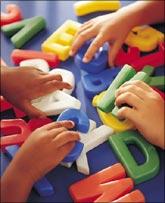 It was early evening, the air was cool, and the hall was brimming with town people and high ranking officials -- an unusual sight in a small town such as this.
This was the third year of the Annual Awards for the Most Innovative Teacher's of Cannanore District, a small town on the west coast of India. It's also my hometown, the place I lived in until I was fifteen.
But it was heartening to see the turnout as what started out as a desire to 'do something' was beginning to make a difference!
Three years ago, I read a report from a group of activists that Kerala engineering colleges were finding it difficult to fill their seats as the high school system was just not producing enough students who could score the minimum needed to qualify in the entrance exam. Some engineering colleges were taking in students who scored as low as 10 per cent in mathematics.
This was surprising, as Cannanore, like the rest of Kerala, has a near 100 per cent literacy rate; there's a school within 1-2 km of every village; there are hardly any high school dropouts compared to the rest of the country. The solution lay in making both the teaching and the learning processes exciting.
So one day, my wife, who's a teacher, said, 'Why don't you start an annual award scheme to encourage innovative teachers?'
My wife and a group of volunteers among whom were the young, enthusiastic office bearers of the local Malabar Chamber of Commerce evangelized the scheme, held meetings to explain the entry requirements, supervised the evaluation and explained to the winners as well as the other entrants what went into choosing the winners.
Of course, we were looking for passionate teachers.
The past two years, we have awarded teachers who have taught value of numbers, the meaning of angles and other math things to children in the most creative manner, thus doing away with rote learning altogether.
But this year's prize for the High School Category was an eye-opener. The Prize Winning Lesson Plan in this category went to K Nirmala, a teacher at a Government High School in a village in the district, who used a short story from our legendary Malayalam short story writer S K Pottakad. The story's called 'How I became a Short Story Writer'.
The teacher had taken her students to an old people's home in Cannanore where they spent the day talking to the inmates, understanding why they were there and not with their children.
Listening to their stories, the students gathered that a society that doesn't look after its older people is not a civilized one. I am tempted to read out S K Pottakat's story. So here's the abridged version:
'An incident that took place when I was in high school had set me on the path of becoming a short story writer. One day, as I was doing my homework in our bungalow verandah, an old woman groped her way up the verandah steps with one hand, and in the other, holding a dirty envelope.
She kept the envelope on the table, sat on the floor and told me her story. She told me that she had, over the years, sold all her belongings and also worked many years as a domestic servant to give her only son a reasonably comfortable life and to pay for his education.
Eventually, she succeeded in achieving her dreams: he got a job, fell in love with a girl he met at work, married her and set up a house -- but without his aged mother.
She wiped her tears and cleared her nose with the old torn towel on her chest and said to me, 'Please write a letter to my son and ask him whether he remembers me giving him food while I starved. Tell him about the time I sold the gold-coin in my necklace so that I could buy him a foot-ruler and instrument-box for school.'
Now he does not like the sight of me. He treats me like a dog and has thrown me out of his house. Please write about all this so that my son will change his mind about me, she told me.
I felt l very sad at this poor old woman's condition and started writing letters to her son on her behalf. In these letters, I started adding a few things of my own besides what she told me.
After a few months, her son began sending her a little money without his wife's knowledge. I am not sure, whether he began feeling guilty on his own or whether the embellishments I had added to her story made him feel remorseful.
The son even once visited his mother and asked her who helped her in writing these letters and when she told him that it was me, a schoolboy, I felt a thrill.
Sadly, well before the old woman could take her son's help, she died. That old and almost blind woman was my first teacher.'
Hearing how the teacher from a remote, small-town, government school, used Pottakad's story to teach children the real values of human life, is when I learnt what real education is about.
Check video: