India is moving towards computing the value of unpaid work done by millions of people to compensate them in some way, says Sreelatha Menon.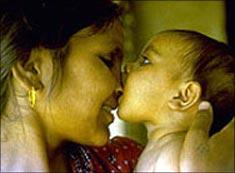 What is work? For most mothers, running after a child for an hour, trying to get enough food inside him or her, may not be work. Ditto with reading from story books or helping with homework.
Similarly, is it work if a parent were to sit at home alone with a year old baby? The parent may be free to watch TV or move around the house. The same is the case with attending to elderly parents, or family members, or friends, who may be sick or disabled.
Care providers may protest it is a labour of love and not work. But can they go out for a moment and do something else that would fetch some money? Again, how much would be the expense incurred on getting the same services from the market?
It won't come for free. The services may not even be available at all. So, whatever care-providers may say, this is work.
According to economist Nancy Folbre of the University of Massachusetts, who was speaking at the Institute for Economic Growth's lecture series this week, this is a lot of unpaid work.
There are categories of unpaid work. It could be household work or supervisory work or things an NGO or an activist does out of belief in a cause. It could be the home-based work done by family members.
GDP of a country does not take into account the value of this work and, hence, the output of labour surveys and time-use surveys is usually distorted, Folbre says. She says if a man and a woman were to be paid the minimum wages paid to maids and janitors in the US for the care work done at home, a woman with a child would be eligible for $33,000 a year, and $17.41 an hour. A man in the same house, would be eligible for $16,000 a year, reflecting the less number of hours he spent with the child, says Folbre.
Nordic countries are already compensating citizens for their unpaid work in various ways like allowances for paternal care and paid family leave and so on, Folbre says.
India is not too far from valuing unpaid work. The Ministry of Statistics and Programme Implementation and the Indian Statistical Organisation have already conducted some time-use surveys to measure the time spent by people doing unpaid work and to calculate the kind of money these works would be eligible to earn.
Indira Hirway of the Centre for Development Economics, who is part of the latest project of ISO to compute unpaid work, says a new pilot project is underway. The effort is to bridge the gap between the national accounts and the value of unpaid work. It would lead to compensation of a large variety of unpaid work in the long run, she says.
Whether or not this would happen before the next Five-Year Plan is not known. But the government is surely awake to the importance of unpaid work.
Folbre says there is great danger of unpaid work being dismissed as no work and leading to unjust rulings, which often undervalue women and their contribution to society.
Dependents of women victims of 9/11 got only 60 per cent of the compensation the dependents of male victims got. That was because the value of unpaid work done by women was not taken into account.
With more and more countries waking up to the reality of unpaid work done by members of the society, women in many cases, this injustice would be avoided, Folbre hopes.