India needs long-term thinking for long-term projects and a better handling of PPPs, says Business Standard.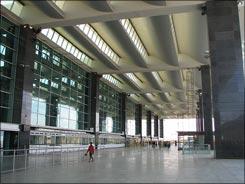 A committee of the Karnataka Assembly has issued a severe indictment of the manner in which Bengaluru's new international airport was set up under the public private partnership (PPP) route and the standard of operations it has been able to achieve.
A body of legislators will have a political agenda and this one is no exception, coming out strongly in favour of full public role in ownership and execution, as also a strong local branding.
But there is enough besides in the report to make all those who wish to see the public sector inadequacies of the past partially addressed by successful infrastructure projects in the PPP mode to sit up and take note.
The first and most glaring negative is that when the project was first globally tendered and the winning global consortium of Siemens, Unique Zurich and L&T was selected as builders and concessionaires, there was no mention that the existing HAL airport would be closed down. But this happened under the new rule that no international airport would be allowed within a radius of 150 km.
Hence a private monopoly was created as an afterthought, causing the valuation of the company, Bangalore International Airport Ltd (BIAL), to skyrocket. A couple of months ago, one of the promoters, Unique Zurich, off-loaded 12 of the 17 per cent of its holdings at a mammoth gain of 1,050 per cent in a four-year period.
This is not all. Two of the three private promoters (Siemens and A&T) who at the material time held between themselves 74 per cent of the stake in the company, were awarded engineering, procurement and construction contracts, and the third, Unique Zurich, secured the operation and management services contracts, without calling for global tenders.
There was no provision in the decision-making process to maintain an arms length relationship between owner and contractor, creating ample scope for levelling of charges of conflict of interest.
Another serious charge levelled by the committee's report is that the system set out to get global players to have a world-class airport but what the city has eventually got is something that falls below such standards.
Users have complained from day one of inadequate space in the passenger-handling areas and too few aero bridges, requiring too many to take a bus ride to and from planes. The root cause is that an airport that was initially designed to handle 4.5 million passengers was later hurriedly upgraded, but even as it opened, it had to handle 10.1 million passengers in 2007-08 with a capacity of 9.78 million.
Moreover, BIAL allocated 30 per cent of the passenger area for commercial use when the global benchmark is 12 per cent, thus reducing its passenger-handling capacity, according to the committee report. Clearly, the project's planners did not see far enough into the future and so did not plan for it.
The legislature committee has recommended some drastic measures: initiate fresh thoughts on reopening the old HAL airport, withdraw the Rs 260 user development fee, do not give any permission to build a fresh terminal unless the first terminal is completed in all respects to handle 10 million passengers in a year, ban the three private promoters for five years from getting any government contract and initiate appropriate action against private and public individuals who were involved in the decision-making process, including the likes of NR Narayana Murthy and Rajiv Chandrasekhar.
Blame games don't get us far. What India needs is long-term thinking for long-term projects and a better handling of PPPs.