Mumbai does not need to be - de-congested - it needs to redeploy its eastern seaboard, writes Sanjeev Sanyal.
Mumbai is by far India's financial and commercial capital. Given the success of Bollywood, some would argue that it is also India's cultural capital (sorry Kolkata). Yet, Mumbai is not a city for the faint-hearted with its ubiquitous slums, legendary traffic snarls and overcrowded trains.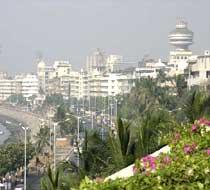 It already has a population of 19 million - most of it squeezed onto a small, narrow island - and continues to suck in people from across India. Not surprisingly, long-term thinking on Mumbai focuses on how to "de-congest" the city.
The idea of de-congesting Mumbai is not a new one. In the seventies, New Bombay (now renamed Navi Mumbai) was created on the mainland as a way to attract people away. From time to time we have heard political demands to limit the inflow of "outsiders" to the city.
More recently, we have seen plans from large corporate houses to develop new satellite townships as Special Economic Zones. However, all these plans are ultimately flawed because they run the risk of de-clustering the very dynamic that drives Mumbai. In order to appreciate this, we need to understand why cities exist in the 21st century.
Why do cities exist today?
In the mid-nineties, many urban experts around the world were of the opinion that cities would become irrelevant in the post-Internet era. After all, they argued, why would anyone pay high rents and suffer congestion in the city when they could use emails and mobile phones to work from anywhere.
However, the last 15 years have proved them wrong as cities across the world have prospered like never before. Notwithstanding the recent downturn, real estate prices have spiralled and urbanisation has sharply accelerated. A majority of the world's population now lives in urban centres and this figure is likely to hit 70 per cent by mid-century. Why?
It turns out that Internet and mobile communications do not reduce the economic value of human concentration. Instead, they work as a force multiplier for urban density by encouraging creativity, intense social interaction and exchange of ideas. Nowhere is this factor more economically valuable than in major financial and commercial hubs like New York, London, Singapore - and Mumbai.
Second, cities provide a clustering of hard and soft amenities like schools, hospitals, entertainment, shopping, social clubs, temples and so on. Modern lifestyles thrive on easy access to an array of these amenities, but a workable concentration of them can only be provided in an urban setting. This is why the Internet and mobile phones are no threat to cities. If anything, they increase the aspirational demand for these amenities.
This has very important implications for how we think about Mumbai's future. Conventional wisdom is that Mumbai is crowded and that we need to de-congest it by creating new business districts and new satellite townships. We have already seen how the financial sector has spread out from the Nariman Point-Fort area to Bandra-Kurla, Lower Parel and even Andheri East. There are plans to build a new financial hub on the mainland. In my view, this is de-clustering the sector and eroding the intense human interactions that give the sector its vitality.
I have personally experienced the loss of efficiency. Till a few years ago, it was possible to do five or six business meetings a day in Mumbai. Now, it is barely possible to do one or two if one has to drive across the city. The point is that a financial or commercial centre is no longer a hub if business interactions are totally dependent on phones and email.
After all, it is just as easy to call or send an email to Singapore or London as it is to call or send an email to Andheri East. Futhermore, it would take a very long time and a lot of effort for the new townships to create vibrant urban eco-systems. Notice how Navi Mumbai has still not been able to do this after four decades.
What should Mumbai do?
Mumbai clearly needs new offices, schools, hospitals, convention centres, apartments, parks, transport links and so on. As we have discussed, it is economically wasteful to build these away from the existing city. Readers may well ask: Where is the space? Oddly, the crowded Mumbai island has a lot of space for expansion.
The single biggest area for expansion is Mumbai's eastern seaboard, the so-called Port Trust land. This is a contiguous strip of 28 km along the city's eastern coast and has 1,800 acres of derelict land that once operated as the city's port. Other cities like New York and London have successfully redeveloped former port land, but the location of Mumbai's former port is especially attractive because it runs parallel to the existing city (unlike London's Canary Warf, which is located on one side of the city). This offers two major advantages:
First, since it is a long contiguous strip, we can create a new public transport system running along the eastern coast with its own linkages to the international airport and the mainland. With a little foresight, the new buildings could be built in such a way that the new urban areas are integrated with the public transport system in order to maximise convenience and minimise land use.
Second, close geographical affinity would allow Mumbai's existing urban eco-system to spill over into the newly-developed areas. This means that there is far less risk of being stuck with the Navi Mumbai syndrome. Far from de-clustering the city's financial/commercial hub, the eastern seaboard would give it space to grow organically.
The idea of redeveloping the Port Trust land has been circulating for several years now. However, there is a danger that it is ultimately chopped up into pieces and sold off to developers. This would merely perpetuate Mumbai's current ills (as happened with the Parel mill lands).
Those who care for Mumbai should demand that the eastern seaboard be developed in an integrated way so that the city gets new public spaces and amenities. My friend Suketu Mehta dubbed Mumbai as the "maximum city". I think that there is scope for further maximisation.
The author is president, Sustainable Planet Institute, and senior fellow, WWF