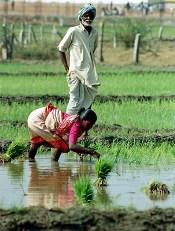 The monsoon rains may have failed and crop output may be lower but, after a small blip, the rural markets are back on track, says Bhupesh Bhandari.
Monsoon rains have been 23 per cent deficient this year. As the news from the Met office worsened week after week right through June, July and August, marketers became a worried lot.
Urban markets had turned soft well over a year ago. The financial meltdown and fears of joblessness made it worse. But rural markets had held steady.
The farm loan waiver, National Rural Employment Guarantee Scheme and increases in support prices of major crops in the run-up to the general elections ensured adequate money in the hands of rural customers.
Have the inadequate monsoons ruined the party? Have farmers begun to go slow on their purchases? Have they decided to down-trade? Till early September, the prognosis was grim.
There were media reports that Triveni Engineering and Industries had decided to scale down its rural retail chain, Triveni Khushali Bazaar, and hand out pink slips to 300 employees.
The Sawhneys, the promoters of the chain, did admit that the retail chain was passing through a rough patch and the business model needed to be revisited, though there were no plans to down shutters or ask people to leave.
That was also the time when marketers began to plan for an alternative strategy. Should they look at smaller pack sizes and stock-keeping units? Should they rewrite prices for rural markets? Should value-for-money brands be pushed more? These were the questions more than one fast-moving consumer goods (FMCG) company grappled with right through August and September.
The evidence from the ground in mid-November should please marketers. It seems to be business as usual once again. There was a blip but things are back to normal.
The disruption wasn't enough for companies to overhaul their business models or hedge their bets on the rural market. Most companies did brisk business in rural markets during the festival season which fell in September and October.
Take a look at some numbers. Samsung, till about a year ago, recorded about 20 per cent of its sales in the rural markets. Today, the contribution stands at almost 24 per cent. In this period, mind you, Samsung has grown 30 per cent. Rural sales were impacted for only two or three weeks in August.
They rebounded in September and October. And there is no evidence, says the company, of down-trading in the rural markets. People don't want to settle for lesser televisions, fridges and mobile handsets.
DCM Shriram Consolidated, which runs the Hariyali chain of over 300 rural retail stores, says there was a bit of a slowdown and that 2009 growth numbers may fall short of 2008, but the sentiment has improved significantly in the last few weeks.
So much so, the company says, that the issue faced by rural retail is no longer if there are buyers in the market - it has more to do with operational efficiencies and configuring the right business model.
The only down-trading in its stores, the company says, has happened in food products, thanks to the sharp rise in prices. In all other product categories, there is no evidence of down-trading. There are several such examples.
Chennai-headquartered Anugrah Marketing & Advertising Services, which specialises in rural markets, has not heard from any of its dozen or so clients complaining that sales are down.
Its Managing Director R Seshadri says that he has of late been inundated with requests from insurance, finance, automobile, mobile handset and FMCG companies to devise strategies for them for a rural push. The three southern states with large rural markets -Tamil Nadu, Karnataka and Andhra Pradesh - are in good shape, says he.
It is essential to understand that there is a vital difference between the behaviour of an urban customer and a rural customer. In towns and cities, people by and large get paid a fixed amount every month. So, they can plan their expenses.
Farmers, in contrast, get money twice a year when they harvest their crops. (In some parts, they manage to squeeze in a short third crop between the kharif and rabi seasons.) But their expenditure is spread right through the year. So, the moment there is even an indication that yields may be down, they begin to cut back on expenditure.
Marketers say that the bumper sales during the festival season mean that farmers are confident of their future earnings - not just the current harvest but also the next. There was some revival in the monsoon rains towards the end, and that will ensure that the rabi crop does not fail.
Even otherwise, a lesser crop may not be such a bad thing for farmers because prices go up. (It is an absolute disaster, of course, for marginal farmers who have no marketable surplus.) The paddy crop, for instance, is estimated to be around 20 per cent short of last year's harvest.
But rice prices have risen around 15 per cent in the last one year. On the whole, farmers might not be so badly affected as some observers assume. Food inflation is running high. This means that prices of most farm commodities are on the rise.
Of course, there are areas like Punjab, Haryana and western Uttar Pradesh where farmland is well irrigated. Scanty rainfall has not had much of an impact. The rain-fed areas have seen some impact. Most companies have done their homework - which markets are strong and which are weak - and are devising their strategies accordingly.
This means marketers need to redo their strategies for the rural markets. Jagdeep Kapoor, the managing director of Samsika Marketing Consultants, has advised his customers - he has about 90 of them - not to look at the rural markets as one large block; they should, instead,  segment it further on the basis of their psychographics, behaviour, demography and geography. Like there is no one urban market, says he, there is no one rural market.
There is evidence that some businessmen who had bet on the rural markets are now willing to spread their risks to the urban markets as well. Devin Narang had inherited a liquor business - beer as well as what is called India-made foreign liquor.
He sold his brewery to SABMiller and his distillery to a liquor group from central India. (For some strange reason, he still continues to head the All India Distillers' Association, the liquor lobby group.) He then came out with products exclusively for the rural markets - torches and lanterns that ran on mechanical energy.
He tied up with Indian Farmers Fertiliser Cooperative Limited (Iffco) to sell these products in villages. But now he wants to sell his stuff in the urban markets as well. He has integrated a mobile charger into the existing product line.
Most agree that the rural story is here to stay. Philips Electronics India Managing Director and CEO Murali Sivaraman has an ambitious plan to hunt for value at the bottom of the value pyramid. His company has designed stoves and lanterns for the rural markets.
Trials are under way in Andhra Pradesh. At the moment, Philips' exposure to the rural markets is small - about 10 per cent of its sales of lighting products came from villages. Other product lines like medical equipment and kitchen appliances are sold in towns and cities. But the numbers will change once the stove and lantern are launched. Sivaraman says the blip has in no way altered his plans.