Do the Thackerays really believe that Mumbai will not lose jobs if banks and companies lose the freedom to hire whom they choose, asks T N Ninan.
What do the Thackerays read? Did they read the report last week which said that more flights now operate from Delhi's than from Mumbai's airport? It wasn't so long ago when Mumbai accounted for half of all flights in the country, so this is a big change. It is after all a global rule that any city which becomes the transport hub becomes the centre of much other activity as well.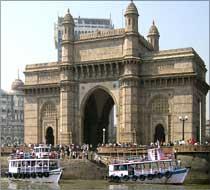 And did they read, a couple of weeks earlier, that Bengaluru now has about the same number of hotel rooms as Mumbai (with Delhi having many more, of course)? They must have known for a long time that Delhi is a much bigger market for cars and two-wheelers, but do they know that Delhi is now the bigger retail market for both consumer durables and consumer softs? And do they realise that, when an international company decides to set up shop in India, Delhi and Bengaluru usually score over Mumbai as the preferred location?
For the best part of a century, Mumbai has prided itself as India's commercial capital, but it is now more correct to call it the country's financial capital. As the place where its stock markets, central bank, main commercial banks and other financial services institutions are located, Mumbai has no challenger as a financial centre. But as a business capital, though Mumbai still houses the Tatas, Birlas, Mahindras and Ambanis, it is clear that Delhi is upstaging Mumbai.
It isn't hard to understand why. Greater Delhi (including Gurgaon and Noida) offers substantially cheaper office space of comparable quality, and lower living costs. It is quite simply an easier place to live in, and offers a better quality of life (public transport, choice of universities, golf courses, intellectual discourse).
While there may be car thefts galore in Delhi, there is no organised gangland of the kind that Mumbai lives with. Above all, there is no one in Delhi to protest against migrants coming to make the city their home.
Indeed, the city has thrived on migrants - as have other cities. It is not an accident that Kannadigas are in a minority in Bengaluru, and perhaps Bengalis in Kolkata. Successful cities are magnets.
As the national capital, Delhi has some natural advantages - and, let's face it, it has been a relatively pampered city for decades (it shows!). But who is to account for the decline of what used to be the country's premier metropolis, Mumbai? Not its good citizens, its hardworking millions, but its rulers - which is where the Thackerays and others come in. The city is an organisational mess (multiple authorities working at cross-purposes), a civic disaster, a transport nightmare, a housing impossibility, and a sprawling eyesore of slums.
None of it need be this way. When the textile mills shut down, Mumbai had a once-and-never-to-return opportunity to re-invent itself, to make mid-town Mumbai a modern, citizen-friendly living-cum-work-cum-recreation hub with homes and offices and parks of the kind that would have revitalised the city. That opportunity was lost as the city surrendered to the builder-developer mafia (and Raj Thackeray made a killing too).
So why have the Thackerays, who lord it over the city and declare who belongs and who doesn't, watched passively as Mumbai has given way at the seams, and focused on dividing people, setting off street violence?
Do the Thackerays really believe that Mumbai will not lose jobs if banks and companies lose the freedom to hire whom they choose? There was a time when businesses fled Kolkata. Heaven forbid, but there could come a time when they decide to stay away from Mumbai too.