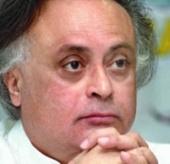 Excerpts from Minister for Environment and Forests Jairam Ramesh's reply in the Rajya Sabha to a calling-attention motion on changes in the government position on climate change.
I would like to reiterate once again, Sir, that as the minister for environment and forests, I stand prepared for any form of discussion at any point of time on any issue relating to climate change before the Copenhagen process starts on the 7th of December.
What I have been trying to do in the last six months is to introduce an element of flexibility in our position, why we remained anchored to the basic principles of the United Nations Framework Convention on Climate Change, the Kyoto Protocol and the Bali Action Plan. I have never, never -- and I would like to make this clear to my friend, my colleague, Mrs Brinda Karat -- advocated India's abdication of its position on the Kyoto Protocol.
I have always believed that Annex-I countries have a historical responsibility for fulfilling legally binding emission cuts and that developing countries like India are obligated to take on nationally-appropriate mitigation actions.
Sir, my only purpose has been to open up windows of flexibility for India because the world is changing; different countries are taking different positions. Brazil, South Korea and Indonesia have announced emission cuts. My whole purpose is that India should not be isolated. So, flexibility is what I have been advocating.
Sir, honourable member Brinda Karat said I advocated giving up G-77. I have not said that sir. I have said, while we have one foot in G-77, we have to be mindful of other responsibilities that India has as an emerging, rising industrial power.
In fact, sir, if I may be permitted a personal word here, I went out of my way to negotiate a partnership agreement with China. The environment in our country was not conducive to an agreement with China. But, on 21st October, India and China signed a partnership agreement for collaboration on climate change. Why would I want to do it if I was an American stooge? Why would I want to sign an agreement with China knowing full well that China today is the world's largest emitter? It accounts for 23 per cent of the greenhouse gases and India is number 5, at less than 5 per cent.
Yet, I went to China, I spent three days there; I and my Chinese counterpart negotiated an agreement. This was the first agreement for China, it was the first agreement for India; because we believed that China and India had common cause to resist the pressure of the developed countries to take on legally binding emission cuts.
Sir, I would like to recount a very interesting episode that had happened when we signed the partnership agreement with China. The Chinese Vice-Chairman of the National Reforms and Development Commission Shi Sheng Hua was coming out after signing; and the television journalists asked him: "What is China going to do to ward off the pressure from America to take on legally binding cuts?" Sir, to my surprise and to the surprise of the TV interviewer, Shi Sheng Hua's reply was: "Ward off pressure is the wrong word. China seeks to engage the world."
Sir, that is what we are trying to do. But we have to have the option open. We have to have some flexibility. And we need to negotiate internationally, not from a defensive position, but from a position of strength.
Sir, the honourable leader of the Opposition spoke about my proposal for domestic legislation. It is a new idea, and my idea is that what we do domestically should be determined by us domestically in Parliament. What commitments we take on internationally is an entirely separate issue. I put forward the concept of a nationally-accountable mitigation outcome.
What does it mean by nationally accountable? To whom? To Parliament.
I am saying, let Parliament decide what these mitigation outcomes are. Parliament, in its collective wisdom, could pass a law, if that is what the government wants and if that is what Parliament wants.