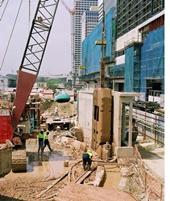 If there is one factor that unites most cities in India these days, it is the spectacle of road construction. Work on flyovers, fresh carpeting or widening of existing roads and construction of new ones are a common sight, holding out the promise of better connectivity for motorised vehicles across cities.
In the last few weeks, New Delhi has seen almost all its roads dug up, either to be built afresh or to facilitate the installation of new lamp-posts. The sudden surge in road construction activity in New Delhi is largely attributable to the Commonwealth Games to be held in the city next year.
However, the reason for the pick-up in road construction in other cities is the rising demand for better and wider roads from more people using their own vehicles to commute from one place to the other. This is the other side of India's automobiles boom.
Urban civic bodies are now under pressure to build better roads and widen them periodically, to accommodate a rapidly rising number of vehicles on the streets. It is, of course, a pity that the automobiles boom has also been fuelled by a steadily deteriorating public transport network in major cities, forcing more people to acquire private cars and two-wheelers, which in turn has increased the demand for better and wider roads.
An entirely unintended consequence of such growth in urban transportation is the raw deal for pedestrians on roads. For instance, most planning for better and wider roads shows little concern for pedestrians. In many cities, urban planners have widened roads to accommodate a larger flow of motorised traffic, little realising that there are no pavements for pedestrians as a consequence.
Several cities have allowed the construction of residential and office buildings without ensuring that they are connected with sidewalks. The flawed assumption is that residents and visitors to these buildings would use their private vehicles. What such urban planners ignore is that sidewalks are as essential a component for a safe and smooth traffic flow as wider roads.
Over 10,000 pedestrians are killed on Indian roads every year. Many of these fatal accidents could be prevented if only the pedestrians were given the right of way on pavements without any encroachments by widening roads and vehicular traffic.
Even cyclists have received a raw deal. The mindless manner in which urban traffic planning has been conceived in various cities has left little room for the environment-friendly cyclist to have right of way on most busy city roads. New Delhi's famous Bus Rapid Transit System, which allocated a dedicated corridor for public transport vehicles on an experimental basis, is an example of how corridors meant for cyclists have been expropriated by other motorised vehicles. 
The traffic signals on busy road crossings or on New Delhi's BRTS stretch have also shown little concern for the safety of either the pedestrians or the cyclists. It is only a matter of chance and good luck for thousands of pedestrians and cyclists who use these busy traffic signals at road crossings that they manage to reach home safely.
Even as Road Transport and Highways Minister Kamal Nath gets down to the task of building 20 km of new roads every day, a task that in itself will pose a big challenge to the system, it is important that urban planners for roads in cities make their outlook a little more inclusive and provide for reasonable space for pedestrians and cyclists on roads by protecting their right to use sidewalks. To begin with, at least, the planners must start reconstructing the sidewalks with the same fervour that now accompanies their drive to build new roads and widen them.