The time will come when Indian readers will head for the Internet too, so India Inc will have to rethink traditional ways of controlling information flows, says Kanika Datta.
By the mid-1980s companies had stories to tell (or sell) and the business press proved handy.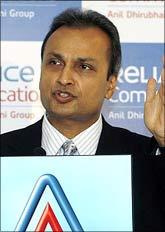 The front page ads and press conferences that Anil Ambani has been organising with determined energy on the Krishna Godavari gas controversy is one indication of how far the lines have blurred between advertising and news.
Despite a court case before the Supreme Court, the younger Ambani is saturating the media to get his side of the story heard over that of his brother Mukesh. As a result, readers of even minor dailies are left in no doubt about his angst on the issue, even if they're hazy on the details.
Had Anil Ambani been doing business in the early eighties, the techniques would have been different. As his father demonstrated then occasional rock star-type appearances at AGMs, the rare "managed" interview and a slick below-the-radar public relations machine created a mystique around the Reliance group that has endured to this day.
Building that image was no small achievement because editors generally had a mildly cynical approach to corporate news selection in those days.
Negative stories were favoured for front-page display; everything else was considered publicity. A plot by one business house to murder the chief of a rival business house would naturally be front-paged. But so would the fact that, say, an auditor had qualified the balance sheet of a large company (a development that would largely go unnoticed today). If the same company said it was setting up a power plant, the story was likely to go inside.
By the mid-eighties, thanks to the stock market boom caused by Rajiv Gandhi's partial liberalisation, this approach was modified.
Suddenly, companies found that they had more room to expand and diversify. They also needed to keep an eye on how their scrips performed on the stock market. In short, they had stories to tell (or sell) and the booming business journalism market proved handy.
As a result, CEOs and senior executives who were hitherto reluctant to talk on the record became more accessible and some acquired what were then known as PROs (public relations officers) to deal with the beast called "the press".
Business newspapers began to be filled with stories of how such-and-such company was expanding, entering some new business or acquiring companies (R P Goenka and Manu Chhabria's deals were prolific front-page fillers).
On editing desks, decision-making became complex and often contentious. For instance, companies now started amending their articles of association to get proforma shareholder approval for new businesses.
One infrastructure contractor amended the AA to include the beauty parlour business. For any conscientious beat reporter, the fact that, say, XYZ Infra, a large-ish listed company with many government projects, was planning to enter the beauty business is a news story to be filed.
The question for the desk editors was what billing to give the story. One editor stuck to the theory that these were "dear shareholder" stories-- news purveyed by the company to push up its stock price. He was mostly right.
Few companies actually did all the things they said they would (indeed, the infrastructure company concerned never ventured near the beauty business).
Over the years, "dear shareholder" stories began to find more space on front pages of business newspapers that expanded at a frenetic pace in keeping with India's fast-growing economy. New rules of engagement were framed.
"Advertorials" emerged and had to be labeled thus and presented in a noticeably difference font from news copy. And journalists observed a no-coverage period two months before the date a company was raising money from the market.
It is worth noting that although the former practice endures, the latter is no longer followed, though Sebi now keeps a stricter eye on coverage. (Television has only blurred the lines between fact and publicity some more.)
Nothing demonstrated the changing dynamics of the information business better than the "column centimeter" approach with which PR firms measured performance. In bare terms that meant equating news copy with the costs the company would have to pay to advertise the same information (larger PR firms have jettisoned this practice but it endures in the smaller ones).
The younger Ambani appears to have adopted this approach, employing a mix of advertising (quarter-page ads could cost up to Rs 2.5 lakh (Rs 250,000), probably less owing to competitive discounting), and press conferences (between Rs 75,000 and Rs 1.25 lakh or Rs 125,000, depending on scale) to disseminate his cause.
The big question is where this leaves the readers. In the West, serious information seekers are finding credible alternatives on the worldwide web where business models are less dependent on advertising.
The time will come when Indian readers will head that way too, so India Inc will have to rethink traditional ways of controlling information flows.