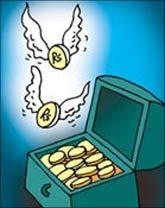 MNCs -- Multi National Corporations. It was not so long ago that for an average Indian like me, the word itself signaled something 'bad,' unless you were employed by one. A connotation of an entity exploitative and rapacious, wanting to suck your blood and deny your freedom.
We had grown up with a lexicon, of words with such associations. Coca-Cola too was invariably invoked with CIA, colonialism, and imperialism. Words with negative associations and MNCs belonged right there.
Forgive me then, if my first reaction on seeing a letter in my in-tray inviting me to speak at a conference on 'The changing nature of MNCs' was that of befuddlement with mild alarm. Why me and how come MNCs?
As an Indian diplomat I am a natural fit to participate on seminars on the 'Reform of the UN' or 'The New World Order,' and not on MNCs. Am I being corrupted or co-opted? I wondered for a moment.
I read the invitation letter carefully. It was from a prestigious Brazilian management school and was being sent to some select ambassadors, me being one of them. The conference was on the prospects for MNCs in the current scenario of economic recession and financial meltdown, but here came the surprise. It wanted me to give my perspective of how I saw the prospects for Indian MNCs.
Indian MNCs! I always had the mental image of India being done in by foreign MNCs. Here was a concept that we were ourselves MNCing others. Intriguing.
I slowly read through the concept paper of the seminar and its rationale. Like many discussions these days, it began by recognising that the balance in the world was shifting, that emerging economies were increasingly important, that in the current climate, growth -- if there was growth at all -- was seen in some countries, principally in China, India and Brazil in that order and that these were the focus of the conference.
Narrowing the field further the argument was that it was not enough to know what was happening in these countries in their domestic dimension, but one had to see their own international companies, as well. How were they faring domestically and internationally, better or worse, where and how, and so on.
Knowing very little about the subject, I naturally said 'yes' to the invitation and thought that at least I will study something new and learn even more at the conference. A diplomat need not be an expert, but he needs to be curious and a quick study: that is the creed.
The event held at a state-of-the-art management school in a distant province of Brazil required some travel. On reaching the venue, however, I found there the dean of the Indian School of Business (ISB), that prestigious and prosperous management institution from Hyderabad, several other Indian-origin management gurus from distant parts of the world, and to top it all, some representatives of Indian business, Indian MNCs, no less.
This was not all. The place was teeming with crisply dressed and efficiency embodying management types from many countries, specially the BRIC countries -- Brazil, Russia, India and China. There were other deans from management institutes from these countries and their associates from the US, France, UK and elsewhere.
Handsome Latinos in impeccable suits or in fashionable skirts from Argentina, Chile, Columbia etc lent a touch of elegance to an otherwise brisk and dollars and cents ambience.
Did I learn anything new? You bet. First, there was buoyancy and expectancy about BRIC. We had Professor Jeffrey Sachs through satellite link, the president of the New York Stock Exchange arriving in a helicopter virtually spelling money, and several other luminaries from the so-called First World. But the message was unequivocal.
The BRIC countries and some other emerging economies -- Mexico and Indonesia were mentioned frequently -- were indeed seen as leading the recovery, and signaled opportunities and markets for MNCs, be they from anywhere.
These countries had demographics, not only total numbers, and a sizable middle class, but also a young population that spurred market demand. The domestic demand and the rising aspirations were the primary engine for growth and no MNC could afford to grow ignoring them.
Second, these countries had withstood the current crisis, at least relatively speaking, were well regulated, and were witnessing growth, now being seen in early stages in some of the developed economies too.
Third, the economic crisis had given them political opportunities and it was the G-20 rather than the old G-8, which may become a decision making forum for economic policies. All this was said of us. We too, me and my Chinese and Brazilian colleagues not only reiterated these facts but gave our perspectives of where we think we are headed.
Ok. All this was about us as markets for Trasnational Corporations (TNCs): Another variant word for MNCs. What about our own MNCs? This indeed was the main focus of the conference.
The growth of the so-called 'Third World' MNCs (we prefer the term 'developing countries' to 'third world') is not all that old. In India, it is even more recent and is really a phenomenon of this new century.
My reading and research had shown that a few of our captains of industry, notably Aditya Birla, had the vision to globalise their business even earlier. But our mental outlook and financial framework in the previous decades did not facilitate flows of capital into India, let alone out of India.
In the nineties we started paying attention to attracting foreign investment into India and slowly but steadily dismantled the barriers. I myself have seen this change of emphasis in my job with attracting foreign investment made a priority for all of us in embassies.
But even as this continues to date, and it has to be noted that our successes are really modest compared to China, there are business leaders who have seen the opportunities to invest abroad.
Names bandied around as case studies in the conference by international experts were: TCS, Tata companies other than TCS, Infosys, Wipro, Bharti Telecom, Mahindra. A roll call of honour of major Indian brands, now turning global.
There were others mentioned like Arcelor-Mittal, Ranabaxy. But are these Indian companies? This being a conference, there was a spirited discussion on how to characterise and classify a TNC, which by definition transcends national boundaries or MNCs, which typically operate in multi-countries.
Why is Coca-Cola American and Toyota a Japanese company is the question. The accepted answer is to see where the headquarters is located, and from where the initial capital has emanated. But as the world globalises, the barriers come down, the question of the 'home' country and the 'host' country gets more complicated.
Why do Indian companies go outside and what makes them excel? This is the kind of issue that is being looked at, now, not only in India, but other emerging economies too. I gained some insights talking to experts and listening to case studies. Earlier, Western TNCs set up shops globally, because of the capital and technology that they had and the markets that we represented.
This process continues but the reverse too has started happening as we see in the cases of the Tatas with Corus or Jaguar, the Mittals with Arcelor or Bharti's current plans with South African telecommunications giant MTN.
The underlying factors are complex and fascinating and were discussed extensively. It seemed that in the globalisation process, there are opportunities for BRIC companies, not only for doing well in home countries, but also internationally.
For the first time, some of the Indian companies, and India as a country, have the capital and the foreign exchange to make such investments possible.
Experts explained that it is the knowledge component and the managerial competence, which gives an edge to Indian companies to be competitive. Human resources are an obvious factor as the success of our IT companies has shown.
Apart from such fundamentals, going abroad requires a different set of attributes and skills: Entrepreneurship, legal acumen, financial deal making ability: we seem to be learning all these.
As I came back to Brasilia, I was telling a German friend in business, as to where I had gone. 'To learn about MNCs,' I said truthfully. 'Which ones -- were Siemens and Volkswagen there?' he asked. 'To talk about our own MNCs, and to listen about the Brazilian,' I said proudly and somewhat self-consciously.
B S Prakash is the Indian Ambassador in Brazil and can be reached at ambassador@indianembassy.org.br. Illustration: Uttam Ghosh