Why the recent strike could see the carrier go Air India's way, says Govindraj Ethiraj.
The general feeling is that the 1974 strike marked the beginning of Air India's decline.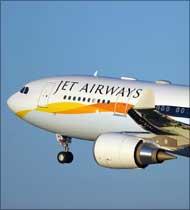 A steep oil price hike in September 1973 - potentially causing state-owned carrier Air India's fuel bill to go up by almost Rs 40 crore (Rs 400 million) annually - caused the management to sit up and put a magnifying glass on aircraft, crew cost and utilisation numbers.
The national carrier, led by then managing director K K Unny, concluded after that exercise that a new "slip" system of pilot and crew allocation was called for. This would save around Rs 80 lakh (Rs 8 million) of foreign exchange annually on two routes, India-Japan and India-London and, of course, cut back on costs. It also meant pilots would work 55 hours a week, as compared to 45 hours. The unions were consulted.
The Indian Pilots Guild, to which Air India union pilots were affiliated, protested saying the new system was being thrust down their throats without consultation. Air India brass hit back saying consultation did not mean that they were obliged to seek concurrence. Particularly in matters like crew scheduling which were management functions.
The Guild then sought the "intervention" of Air India chairman JRD Tata. To the IPG's surprise, Mr Tata in a letter in July 1974* was categorical the Guild had no right to interpret a consultative process as one wherein their concurrence was being sought.
He went on to say that any such concurrence could give the IPG the right to veto any matter on which consultation took place, even where the matter under discussion was clearly within the management's purview.
The pilots struck work. And finally lost a court battle. Captain D S Mathur, the general secretary of the Guild, was dismissed from his job. It's another story that Captain Mathur eventually got back his position and went on to become, in a move that is now Air India legend, the airline's managing director. For the last few years, he has been again in the news - for opposing a new airport project at Mandwa, Navi Mumbai.
The general feeling within Air India (or for that matter outside) is that the 1974 strike marked the beginning of the airline's decline. Scores of strikes followed over several years.
While the monetary damage caused by each strike, amongst the several unions, may be difficult to compound, the intangible damage was even larger. The company began fragmenting. Most employees lost the affection and interest in the brand and the shared sense of purpose.
Jet Airways executive director Saroj Dutta must have had that sinking feeling when he first confronted the prospect of a union in his airline. He should know. He worked with Air India in the years when the rot began to set in. Or for that matter, the Jet Head of Operations, Captain V Mohan, who I previously encountered when he was piloting an Air India Boeing 747 from Mumbai to London.
Jet Airways founder Naresh Goyal must have been advised similarly. Break the union before it forms or you could well go the Air India way. And Goyal, from all that I have gathered, wants a closely knit organisation but not one where employees start fanning out to do their own thing. The unions saw it differently.
They say they are equally committed to the airline's future and success. They were being penalised only because they said they wanted to form a union. And they did not have a single demand, monetary or otherwise.
The Air India example, at least my limited reading of it, suggests that unions rarely have had flamboyant demands in terms of compensation or so on. The biggest conflagrations appear to have erupted over the issue of control and autonomy.
As I gathered from speaking with the protagonists in the Jet drama too, both sides wanted a say in how things were run. Except that one was management and the other not.
Which is a fundamental issue the airline industry is grappling with since 1931 or thereabouts, when America's Air Line Pilots Association or ALPA was formed - that running an airline is not like running any other business, even in the services sector. I couldn't imagine the chefs of a top hotel chain not turning up for work or not firing up the ovens.
Old Air India hands tell me that Jet should have stood its ground because the union guys would have cracked in a few more days. But Jet is neither in a financial nor strategic position to do that.
Just one day of no service and the other airlines jumped in with an alacrity that I have never seen in India's services industry (except maybe at the taxi stand outside Mumbai's Dadar station).
Jet Airways is not the only airline to be faced with such a dilemma. American no-frills carrier JetBlue in February fought off an effort by pilots to form a union. Here's the catch.
While the management continued to oppose it in its stance and word, it let the vote decide. The Pilots Association had to get a 50 per cent vote in favour of launching a union. Only 33 per cent signed up, or 646 of 1,937 from the reports I read.
Let me end with another quote: "I earnestly appeal to you and your colleagues not to precipitate a situation which will cause serious loss of revenue and foreign exchange at this critical time when it can least afford it and also cause great inconvenience to hundreds of passengers and hardship to thousands of the Corporation's employees, in addition to your own members."
---
- Letter to the President, IPG, 1974. Signed JRD Tata, Chairman.*
* The letter exchanges are from "Industrial Relations" by Arun Monappa. Any errors in interpretation are the author's. The writer is Editor, Bloomberg UTV