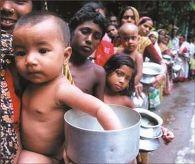 There is a strong state-wise dimension to India's poverty question, and the first answers have to come from the governments of the concerned states, writes T N Ninan.
Which country would a poor person like to live in? He has two options. In Country A, the average income per head goes up by 1 per cent each year, while that of the poor goes up by 1.25 per cent.

In Country B, average income goes up by 3.5 per cent each year, but that of the poor goes up by only 3 per cent.  It is easy to see what will happen over time in the two countries.

In A, inequality will reduce and everyone will become more equal. In B, however, poverty will reduce much faster, even though the level of inequality will increase. So which of these two countries would a poor person choose?
That was a question posed at a conference in New Delhi last week by Stuart Corbridge of the London School of Economics.

It seemed evident to me that any poor person would choose Country B, because he would primarily be interested in rapid improvement of his own economic condition, even if that meant accepting increasing inequality.

But most people at the conference (attended by government people and NGOs, primarily) seemed to find that a difficult choice to make. It went against the grain to say that poverty was more important than equality.

Some speakers even dismissed it as a false choice. That is an arguable point, for some rapidly growing countries have become more unequal, while others that are growing less fast have become more equal.

According to a study that Prof Corbridge quoted, in roughly half the countries the level of inequality has been coming down (i.e., they have achieved 'pro-poor' growth).
That, however, is not true of the two fastest-growing economies in the world, China and India. China's growing inequality has been a subject of general agreement for several years.

Not so in the case of India, because a key statistical measure of inequality (the Gini co-efficient, worked out using data from National Sample Surveys) shows the level of inequality in India as being par for the course.

That has now been questioned by Pranab Bardhan. Writing on this page two weeks ago, Prof Bardhan said that, if one goes by NCAER data, inequality levels in India are much higher than generally assumed.

And when it comes to inequality in asset ownership (including land), India is much worse than China. Ditto when it comes to education, in which India is one of the most unequal in the world.

Prof Bardhan argued that these kinds of inequality are growth-retarding, so there is no trade-off between equity and efficiency.
The tricky thing is that India during the years of more rapid growth has not seen poverty levels come down significantly faster, if at all - though this comes with the qualification that there is no data for the post-2003 period, which has seen the fastest growth so far.

Even in China, the poorest 10 per cent of the population have seen very little improvement in their standards of living. In other words, the rapid growth in these two countries is not even anti-poverty, let alone being pro-equality.
The operative questions have to do with causes and correctives. Are economic reforms and the greater role of markets responsible for growth being anti-poor and anti-equality, or is it the failure of governance in poverty-ridden states like Bihar and Jharkhand that is the primary problem?

I would think it is the latter. There is a strong state-wise dimension to India's poverty question, and the first answers have to come from the governments of the concerned states. If Bihar falls behind while Gujarat ploughs on ahead, both poverty and inequality will increase.