Forget about Air India living off government dole, it has paid a huge price for being a PSU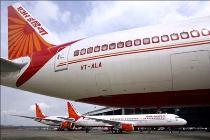 Air India has very often been slammed for living off taxpayers' money - an impression that was patently wrong till a couple of months ago when the first tranche of Rs 8 billion (Rs 800 crore) was given to the airline as additional equity by the government, in its capacity as the airline's owner. Contrary to popular belief, in the last 57 years, Air India and erstwhile Indian Airlines have jointly received no more than Rs 5 billion (Rs 500 crore) from government. The huge assets of the two airlines have been created largely out of their own resources.
What has never been asked is how much it costs Air India to be a government airline? In other words, by how much would Air India's financial balance sheet have improved if it wasn't a government-owned airline? That Air India has to fulfil many unviable tasks by its political masters is well-known, but what has never been quantified is the cost Air India has to bear because of the systems and procedures that the airline has to follow only because it is a PSU.
A good way to see this is to, for instance, just compare the process of aircraft leasing followed by Air India and the one adopted by Jet Airways in recent weeks. While Jet succeeded in leasing out three Boeing 777-300ERs to Thai Airways last week after having leased an equal number of aircraft to Turkish Airlines some months ago, Air India has been unsuccessful in doing anything like this. It is pertinent to mention that most airlines in the world were saddled with surplus capacity as a consequence of the economic meltdown and resultant drop in the number of passengers. With ambitious growth programmes kept on hold and flights regularly withdrawn from uneconomical sectors to ensure financial viability, airlines like Air India and Jet Airways which were taking delivery of new aircraft in substantial numbers had to take steps to lease out aircraft.
Air India failed, whereas Jet Airways succeeded. Why? Not because the latter was smart and Air India wasn't. As a government airline, Air India has a defined procedure to follow for leasing out aircraft. The process: first obtain an in-principle approval of the Board; issue a global tender notice inviting bids; scrutinise the bids; hold negotiations with the highest bidder; seek approval of the Board - a time-consuming process, by the end of which the interested airline has invariably explored other options. On the other hand, private airlines, with no queries from the Comptroller and Auditor General, the Central Vigilance Commission and numerous Parliamentary committees to answer, can settle the leasing rate through negotiations held across the table. All of Air India's efforts to lease out aircraft - new B777s and old B747-400s in recent months - have been in vain so far, precisely due to procedural red tape.
How much has this missed opportunity cost Air India? A staggering sum. No one can, however, be held accountable for this loss because it was the system that caused this loss. Each B777-300ER costs about Rs 5.50 billion (Rs 550 crore) and the established thumb rule in the industry is that the monthly lease rental is about one-hundredth of the aircraft cost, i.e. Rs 5.5 crore per aircraft per month. Simple calculations would show that Jet Airways will annually receive Rs 325-375 crore for the six aircraft given on lease to Thai Airways and Turkish Airlines for three years. This is no small amount at a time when airlines are struggling to keep themselves afloat. Conversely, due to it failure to lease out aircraft, Air India has lost out on the rental income that would have come its way if only the attempts to lease out had succeeded.
It is heartening to note that after repeatedly failing to attract bidders through the tendering process initiated over six months ago, Air India has finally decided to avail the services of an external agency to help it lease out the aircraft. But precious time has been lost at a time when it is finding it difficult to pay salaries to its employees on time. This illustrative example is only one of the several that show how Air India loses out because of it being a government-owned airline.
Interestingly, the amount of money that Air India is seeking to generate through pay cuts likely to be enforced on employees is about the same as that it has lost out from leasing opportunities.
While generating additional income through leasing out of aircraft and exploring other areas would be welcome moves, pay cuts would end up demotivating employees who need to put their best foot forward in today's competitive environment to win customers' trust, thereby enhancing revenue for the airline. One does not have to be a psychologist to suggest that no human being would be inclined to give up something that has been his for years unless he is convinced that all others possible avenues for reducing costs have been explored, exploited and exhausted. And, as is obvious, there are numerous areas in which savings can be achieved and expenditure avoided.
The Committee of Secretaries, which is engaged in the exercise of ensuring Air India's survival, thus needs to adopt a more pragmatic approach. It has to allow Air India to function as a commercial airline and keep in abeyance the restrictive and time-consuming rules, regulations and writ of watchdog bodies that have failed to serve any fruitful purpose, but which have hurt the airline. A free hand to function, with accompanying accountability at all levels, is the only way to see the airline ensures its survival in the short run, and progress and prosperity in the long run.
The author was till recently executive director of Air India