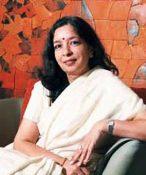 The executive suites of most major companies still remain largely boys' clubs, but things are improving, says Shyamal Majumdar.
ICICI Bank MD and CEO Chanda Kochhar says India Inc has gone much beyond recruiting women as a part of its corporate social responsibility drive.
"We don't ask for special privileges; we would rather get the job on merit," she said, while moderating a panel discussion at the Business Standard Awards ceremony held a fortnight ago.
Kochhar should know as she belongs to an organisation that has in recent times seen the maximum number of women CEOs across the group and where women make up 40 per cent of the senior management.
That's also perhaps the reason why a survey by international executive research firm EMA Partners International shows that around 11 per cent of Indian companies have women CEOs, compared to just 3 per cent in the Fortune 500 companies in the US.
A sector-wise analysis of Indian women CEOs shows that over half the women CEOs (54 per cent) are from the banking and financial services sectors, followed by the media and life sciences (11 per cent each).
However, the good news on the she-change in corporate boardrooms ends here. The percentage of Indian companies having women CEOs may be more than in the US, but it is far less than most other countries. For example, the comparable numbers in Germany, the UK and France are 25, 30 and 35 per cent, respectively.
It's also interesting that most women CEOs (35 per cent) in India are from the promoter families - if they are taken out of the equation, the number would drop drastically.
Many say that overt discrimination is rare in Indian companies; still, the executive suites of most major corporations remain largely boys' clubs as India Inc has still not been able to shake off the stereotypes about women.
For example, there was a recent case study where a group of employees was discussing the new logo for their company. When a woman suggested red, a colleague remarked that she was recommending it as it matched the colour of her sari.
All the men laughed indulgently. Examples such as this show that there are quite a few people who still have a kind of institutional sexism that assumes women are less able than men.
But the HR head of a large consumer electronics and durables firm says while it's fashionable to attack the so-called sex discrimination in Indian workplace, the fact is women themselves are partly responsible for this.
He quotes a BBC report which said at the heart of the matter is the Cinderella complex - where no matter how successful a woman is, subconsciously, she still expects that a prince is going to come along and rescue her.
He also says that the business door is wide open but women, looking for different and more balanced lives, have not been interested in entering.
He may have a point. In his book Why Men Earn More author Warren Farrell says women make sacrifices at work in exchange for greater happiness in their lives as a whole.
His book offers 25 reasons for a pay gap between men and women: Women work fewer hours, for example, and they don't stay at jobs as long as men do. Whether it's nature or socialisation driving their decisions, women tend to choose lives that allow them to spend more time with their families, Farrell contends.
A global study, also conducted by Catalyst, found that men worldwide desire the top jobs more often than women.
Result: it will take 70 years for there to be as many women as men on the boards of the largest US companies at the pace women are getting such positions. The rate of progress over the past decade has been, on average, one-half of one percentage point each year globally.
A related issue is time off. Studies have found that women MBAs were more likely than men to have taken time off from their careers, which can be a huge misstep for those aspiring to reach the pinnacle of corporate glory.
Axis Bank MD and CEO Shikha Sharma puts this in perspective. Sharma agrees that a lot of talented women do leave after becoming mothers, "The first two-three years after becoming a mother are the toughest," she says, recollecting how her heart would sink at the thought of leaving her child at home.
"Even if you are doing really well at work, but feel you are not a good mother, the guilt can shatter you," she says. But Sharma was lucky to have a "terrific" support system at home - a reason why she has been able to maintain a 12-hour work routine and give her best to the job.
Sharma, however, says if the company is willing to walk that extra mile and can engage these women and pull them back, they can cope and be star performers. She was obviously lucky to have found an organisation which allowed her to cope.

Image: Shikha Sharma