For C K, the business of business must be to improve the world for everyone, writes Arun Maira in a tribute to the management guru.
On the 60th anniversary of India's Independence, C K Prahalad shook the celebrations by Indian business leaders. He challenged them to envision what the country should be at its 75th anniversary. And he asked them to determine what they must do to realise that vision. Liberalisation had helped Indian businesses: Their achievements were noteworthy; but what about the masses of India, he asked.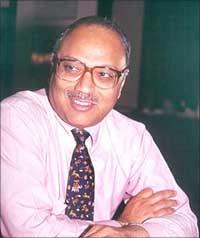 He was a great believer in markets and competition. But he stood stalwartly against the tide washing from the West across the world promoting the idea that in capitalism the business of business must be business.
His book, The Fortune at the Bottom of the Pyramid, created a new paradigm. For C K, the business of business must be to improve the world for everyone.
C K was the best of the best of strategy gurus in the world. India was his country. To us he gave the most of himself - his passion, and his fabled skills to inspire and coach.
He was determined that India must become the manufacturing hub for the world, creating innovative products with innovative processes in innovative forms of enterprise. Strategies built on 'core competences' was the idea that C K had earlier given to the field of business strategy.
In recent years he had devoted himself to developing a manufacturing strategy for India built on its core competences. I had the privilege to work closely with him on this, as well as his vision for India@75. When I joined the Planning Commission last year, we took the opportunity to begin working together to convert such strategies into policies.
For myself, and on behalf of the thousands of people in India who C K has directly inspired, and the millions more who are beneficiaries of his visionary ideas, I will say, in sadness and in gratitude, "We have miles to go before we sleep...and we will miss you, our great guide."
Arun Maira is Member, Planning Commission. He was earlier the Chairman of The Boston Consulting Group, India