The first thing that needs to be addressed is Air India's cost structure. If it were a private airline, Air India could apply for bankruptcy, but as a national airline that option is not on the table, says Vinay Bhaskara.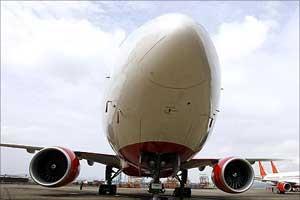 I am writing regarding your article titled, India to be among top 5 aviation markets: Praful Patel. I am an aviation blogger and a part-time travel agent. I disagree with a couple of points made by Civil Aviation Minister Praful Patel.
While India will soon become one of the world's top five aviation markets, eventually ending up fourth behind the United States, the European Union and China, I disagree that India will need 2,000 planes over the next five years.
Already, India has more than sufficient airplanes, since only 1,000 or so are necessary. The rest of the growth could be achieved through better scheduling. Take for example Air India's Boeing 777-200LR, which are used to operate flagship services to New York's JFK Airport. If these flights were extended to Kuala Lumpur or Bangkok, and schedules altered so that flights depart Mumbai early morning, arriving at night at JFK, then turned around for a trip back to Mumbai (thus ensuring early arrival there), it would allow more destinations to be served.
The US-India direct link market is already saturated and Praful Patel's desire for more Indian carriers to fly to the US and vice versa is unreasonable. The demand for business passengers (who require non-stop trips) is already well served by multiple flights on Continental, Air India, and American Airlines.
Additional direct links include the upcoming service provided by Jet Airways, with Kingfisher having plans for the future, Air India, and Delta. Connecting opportunities are provided by a host of airlines: British Airways, Lufthansa, and Emirates.
Currently, Emirates sustains a lot of its destinations on connecting traffic to the Indian subcontinent. The high volume of flights to India by Emirates would have to be matched for Indian airlines to effectively compete. And the airlines cannot even sustain the capacity levels they are currently at, let alone add more, as evidenced by Jet Airways' downgrade of North American flights from the Boeing 777 to the smaller A330.
Indian airlines cannot compete due to their fragmentation and competition for the same passengers. On these routes, foreign airlines mainly compete for passengers from the US; Indian airlines get India-based traffic. Therefore, India-based airlines cannot have more flights to India without bringing about significant changes in their business models.
Also, Air India's problems stem from three issues: exorbitant cost structure, poor quality, and inefficient business model.
The first thing that needs to be addressed is Air India's cost structure. If it were a private airline, Air India could apply for bankruptcy, but as a national airline that option is not on the table.
However, Air India can use a similar strategy by forcibly renegotiating the contracts of its workers to allow for more flexibility and realistic pay. It can shed unnecessary jobs, reduce salaries of executives.
In line with this fact, the Indian government should search for private investors to buy up to 49 per cent stake in the airline, and set up an initial public offer to raise cash.
The next step would be to get quality up to the standards of other Middle Eastern/Asian carriers.
To compete on routes to Asia and the Middle East, the quality has to be improved and sustainability of these routes depends on whether an Indian airport can become a connecting hub.
The only airports where operating an India hub could be viable are Delhi and Bangalore, as Mumbai is too crowded, and Chennai, Hyderabad and Kolkata are too small. But even those that can still need changes to become viable as hubs.
For this, the airport needs to be turned into an international transit zone, like Dubai, Tokyo, or major European airports. This would allow passengers to connect from one international flight to the next without having to go through immigration and rechecking their bags. This would make Delhi more attractive, as it is in a good location to handle Asia-Europe, Asia-Middle East, and the Kangaroo Route.
About India to US flights, non-stop links are fine, but to capture a more significant passenger share, airlines need to offer attractive one-stop options, with a through-hub in Europe.
The goal of these services should be to grab plenty of leisure traffic and connect them through the European hub.
India needs a strong Air India to fuel its aviation growth.