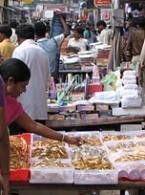 The embattled Left Front has done one more volte face by deciding to regularise hawkers in Kolkata's busiest streets, says Subir Roy.
In the run-up to the municipal polls in Kolkata next month (state assembly elections are due next year), the embattled Left Front government of West Bengal has done one more volte face (it had earlier reintroduced English language teaching in government primary schools) by deciding to regularise street vendors or hawkers whose takeover of large stretches of pavements along the busiest streets has become a defining aspect of the city.
The decision has predictably been assailed by the media, particularly the English language papers which have recalled Operation Sunshine - the move by the same government a decade ago to rid the pavements of the same hawkers to much middle class applause. I myself had written a laudatory piece then celebrating regaining of the street-looks of my childhood.
The issue is of national interest not just because the state government has claimed that it is implementing the national policy on urban street vendors. Kolkata - with its poverty, lack of jobs, congestion and an electorate more interested in its rights than duties - is an extreme case of urban realities across the nation. Make a dent on the hawker problem there and you will have developed a model for application elsewhere.
Several realities need to be grasped at the outset. India is not China and you cannot get rid of hawkers in busy parts of Kolkata by doing a mini Tiananmen Square. (The hawkers have been earlier successfully removed without serious violence because they knew they would be able to get back.) The latest move recognises this, even though the motive, with an eye on elections, is insincere.
There is no point in playing around with words like "sunshine" and "sunset" in headlines because Operation Sunshine-I has not and Operation Sunshine-II will not work. It is not an available option. Conversely, regularising hawkers is no real solution to the unemployment problem or poverty. Left unchecked and carried to its logical conclusion, hawkers will cover not just pavements but entire carriageways.
But hawkers (325,000 in Kolkata at the last count) mean livelihood for families at the bottom of the pyramid, made possible by young men with an entrepreneurial spirit which needs celebrating. The middle class cannot want to own cars and simultaneously say it is wrong for hawkers to usurp pavements. Private cars are the biggest usurpers of public (road) space.
They gain legitimacy because the public transport system is inadequate, though it is better in Kolkata than in most other Indian cities. But hawkers themselves will go away if people cannot access them via usable roads and pavements. The aim, therefore, must be to find a compromise that is practical, civilised and does not imply the abdication of the state.
One solution not tried so far is use of technology. The hawkers' stalls are both sprawling and ugly. Modern carts on wheels with storage space below the service top and colourful awnings along the sides can do much to give the city a better look while keeping a control on how much space a single hawker can occupy.
These carts can be stored for the night in common state-arranged pounds so that pavements can get cleaned between night and morning. As hawkers sell clothes, utensils, toys, food, soft drinks, what have you, there can be a national design competition for a modular cart and variations of it for different uses. Such carts can actually make the derelict city look colourful and can become a plus point. Next, hawker presence has to be intensively coordinated with civil clean-up work so that hawkers, particularly those selling food, do not create an unhygienic mess. If these carts work, then they can be replicated all over the country.
The biggest hurdle is to acceptably ration pavement space between the hawker and the walker. The earlier official directive that hawkers can take up only a third of the pavement space is fair. Well-designed carts can actually generate a few inches of pavement space without hurting the hawker. Municipal corporation staff have to go down pavements with measuring tape and chalk in hand to draw lines which no one can transgress.
Under these conditions, it will be possible to accommodate most of the current hawkers while making pavements usable again for pedestrians. The system will work and boundaries will be respected only if the system evolves out of intensive consultation with all stakeholders. What has to be initiated is a culture of consultation before doing anything.
Civic staff and hawkers' representatives have to learn to bang heads together and honour commitments. Barcelona, a city that has reinvented itself, holds intensive discussions with the public on even things like where and how to locate a bus shelter.
The new system promises identity cards for hawkers. This is fine, but the hawkers' union demand that the card should also say where and how much space is allotted will not do. The card should entitle a holder to ply his trade, where he will do so will depend on what he has been doing and by seeking new territory.
The cardinal duty of the police and the civil staff must be not to allow the hawkers' sprawl to expand further on busy streets. Such a system or its variation identified through discussion can work and be better than what is there on the ground right now.