V Vaidyanathan joins a growing list of top executives getting a sumptuous sign-on bonus, writes Shyamal Majumdar.
There must have been many things that prompted V Vaidyanathan to give up his cushioned existence at the ICICI Group, one of them being the challenge of a start-up kind of a job at Future Capital Holdings.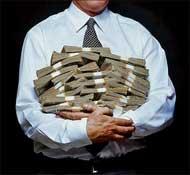 Also, at 42, he was already the MD of ICICI Prudential Life Insurance, but going up the ladder - that is moving to the corner office at ICICI Bank - would have been a very long wait.
Future Group Founder and ceo Kishore Biyani knew it would be tough to convince Vaidyanathan to shift base to FCH. So, apart from the job profile, his hard sell included a sumptuous sign-on bonus, also known as golden hellos - something that has made the 42-year-old Vaidyanathan the highest-paid non-promoter CEO in India.
He got two million warrants (convertible into FCH shares 18 months later) worth over Rs 47 crore (Rs 470 million). FCH allotted him shares at Rs 237 each and Vaidyanathan can convert them into equity shares 18 months from now.
For the record, FCH shares have already risen 17.4 per cent to Rs 278.25 since the shares were allotted three days ago. And the value of those allotted to Vaidyanathan has appreciated to Rs 55.65 crore (Rs 556 million).
Golden hellos or compensation to prompt a critical talent to jump ship is nothing new. But they are making a huge comeback after a brief lull when companies applied brakes on their compensation budgets due to the economic slowdown.
HR consultants say, apart from retail, financial services and consumer goods companies, those in the new ICE sector - infrastructure, construction and engineering - are offering handsome golden hellos to prospective employees in senior and mid-level positions.
"Getting a key employee in the door is becoming increasingly difficult, specially in industries that do not have enough talent bank. A salary of a few crores is suddenly looking like chump change in these companies, as their competitors can often pay more. What can often make a difference is a great sign-on or retention bonus," an HR consultant says.
Companies are obviously aware of that. LG, for example, has devised a retention bonus scheme for its middle and top management whereby a person can receive 100-150 per cent of his basic pay annually for three years. Dabur is offering additional stock options as retention bonus to a core team of senior employees.
Some companies such as Accenture offer graduates a large golden hello in two instalments, one smaller instalment at the start of their graduate scheme, and one larger at the end.
Golden hellos have trickled down to the top B-schools as well. While no such data are available about Indian business schools, students from the London Business School topped the sign-on bonus chart by averaging $23,500, followed by IMD at $20,000 and Harvard at $15,000.
And executive search firms say golden hello-type packages are here to stay as the talent shortage in India is again so severe that only one in three vacant top slots can be filled. Even the time taken to fill senior positions has doubled to 120 days.
It's not India alone, companies all over the world are now willing to go that extra mile to attract key employees. Three months ago, Marks & Spencer paid pound 15million (one of the biggest golden hellos in corporate history) to lure its new boss Marc Bolland away from Morrisons, which under his leadership became the fastest-growing supermarket in the UK.
Bolland got this amount despite the growing demand for more restraint in boardrooms amid the furore over bankers' bonuses. But M&S couldn't care less as the day Bolland's appointment was announced, M&S shares rose 6 per cent, while Morrison's sank 5 per cent.
Unilever, for example, paid its chief financial officer Jean-Marc Huet a bonus of pound 3.28 million in cash and shares to compensate for the loss of incentives at his previous employer, Bristol-Myers Squibb. The cash award was paid when Huet joined the company, while the share award will vest over the next three years.
Stock options are considered the most effective component of golden hellos as there is invariably a lock-in option.
Typical vesting periods range from one to three years and they are tied to the performance of the organisation. If executives leave before becoming fully vested, they would have to kiss every rupee of the hello goodbye - a reason why golden hellos are often referred to as golden handcuffs.
Some companies also use other forms of stock such as phantom stock under which employees do not get actual stock or stock options but credits an account with units of such stock for which the employee receives a certain payout if he stays for a certain period.
Planning a full-proof golden hello package is important. Vedanta learnt it the hard way when its ex-chairman Brian Gilbertson made merry with golden hellos. Gilbertson, who received a pound 7million golden hello from Vedanta, which was then planning a float in the UK, left in just six months. Reason: he keenly responded to another gilt-edged "hello" from Russia's leading aluminium producer, Sual.