The good news is that India is hitting critical mass across product categories like mobile telephony, auto and consumer electronics, to name a few, writes Bhupesh Bhandari.
Comviva, a company owned by Bharti Enterprises, Cisco and Sequoia Capital, has come out with quite a few interesting applications for mobile phones.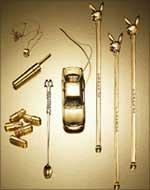 One is for mobile banking in Vietnam. Banks there have mandated mobile operators to take deposits and disburse cash to people who don't have a bank account. The other is a virtual SIM for two service operators in Africa.
Thus, various members of a household can make do with one handset; all they need to do is punch in their SIM code.
It's an ideal solution for emerging markets, though it may take some time to launch in India. Every SIM card has a number which can be tracked by the security agencies; no such number is there on a virtual SIM. Once the authorities get round this problem, it could be sold in India as well.
For application developers like Comviva, opportunities have shown up across the world. Only 40 per cent of Comviva's revenue comes from India. What has helped is the large size of the Indian mobile market — over 600 million connections.
Developers started out by selling applications to Indian telecom service operators, gained size in double quick time, and now the world is their playground.
This drives home a crucial lesson: Companies gain a lot if the domestic market is sizeable. In other words, sectors which have a large market in the country are more likely to produce global winners.
Till some years ago, India was the flavour of the season in the market for generic pharmaceutical products. Why? The patent regime that obtained till 2005 respected only process patents and not product patents - and that too was rarely implemented with any sincerity.
What it meant was that Indian companies could produce any drug in the world so long as they used a new process. This made Indian attorneys excellent readers of patents and Indian chemists became excellent engineers of new processes.
This greatly helped Indian companies in the generic space in markets like the United States and Europe. Now others too have developed these skills.
It works in another way. Developing a new product from scratch can cost a lot of money. To recover that investment, the developer needs to sell the product in large numbers. Otherwise, it could be financial hara-kiri. This is where the domestic market comes handy.
Take the example of Mahindra & Mahindra. Its global ambitions are closely tied with its performance in India. Its cost of developing a new vehicle (sports utility vehicle or tractor) is about a third of multinational companies.
Still, it knows that it can develop these products only if it can sell in large numbers in India. Otherwise, the investment cannot be justified. The fly in the ointment is that the Indian and mature overseas markets are at different points on the evolution curve.
The SUVs and tractors sold there are bigger and more powerful than what sells in India. There is no way that the same product can satisfy customers here and there. So, the company has to tread carefully.
Conversely, why have Indian information technology companies not been able to develop a healthy pipeline of products? They provide services to most of the top corporations of the world, and have earned valuable foreign exchange and invaluable goodwill for the country. But why have they failed to develop products of any significance?
Management gurus say this is because the domestic market never had the size to support such work. As a result, Indians have remained where they were some years ago. Or, why are Indian real estate developers not able to deliver affordable houses the world over? That's because it calls for industrial-size ventures, as aggregation at such a high level drives down costs sharply.
This is happening in China. But projects in India are of a much smaller size. In Shanghai, for example, over 250,000 apartments are built in a year. The National Capital Region of Delhi, in the current boom, will not see more than 70,000 new apartments.
The good news is that India is hitting critical mass across product categories like mobile telephony, automobile and consumer electronics, to name a few. The most exciting space perhaps is automobiles. India has broken into the ranks of the top dozen car markets of the world.
It is, of course, the number-one market for two-wheelers. Look at some of the other numbers as well: India buys and sells more tractors than any other country, is the third-largest truck market in the world, and the largest in small goods carriers of one tonne and below. Is this driving innovation? Sure.
The Nano wouldn't have happened if India was a small market. Or, take the example of small goods carriers. In no other country will you see such a range of products in this category. Tata Motors revolutionised it with the Ace.
Mahindra & Mahindra developed a whole new small truck, the Gio, for as little as Rs 25 crore! This surely must be a world record. These are all innovations that can easily be taken to other emerging markets. Size does help.