Money does not grow on trees, is a favourite proverb of Prime Minister Manmohan Singh. Union Finance Minister Pranab Mukherjee also knows that money does not grow on the moon either, even if his Cabinet colleagues ask for the moon in making their demands for grants.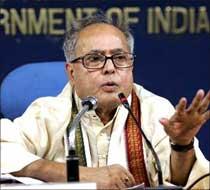 The time for fiscal rectitude and correction is now. If Mr Mukherjee misses this year's opportunity, he will not get another. He may well present all the Budgets of this government till its term in office is over, but it is this year's Budget that can well determine his place in history books.
With only Bihar assembly elections due this year, and elections to several politically important states in 2011, this year's Budget is the only opportunity Mr Mukherjee has for bold initiatives and the tough task of fiscal correction. If he gets his numbers wrong this time, no damage-control will be possible next year. So, what should the Union finance minister do?
To begin with, he must stick to his own statement that in 2010-11 he will bring the fiscal deficit to national income ratio down to 5.5 per cent, with the revenue deficit down to at least 2.0 per cent of GDP.
Joining hands with the central bank, which has done its bit on the monetary policy front, the finance minister must reverse the recent slide in fiscal numbers. A rollback of some elements of the fiscal stimulus package of 2008-09 will be necessary.
Since the introduction of a national goods and services tax has now been delayed by a year, there can be a 2 percentage point hike in excise duty this year, with another 2 percentage point increase next year when GST is introduced.
The government has no option but to tap tax revenues, both direct and indirect, and earnings from public sector equity sales, to reduce the overall deficit. While an inflation-hit salaried middle class may expect some tax relief, they cannot be spared some of the impact of a reduction in subsidies, including fertiliser and petroleum subsidies, which is now long overdue.
Alongside such acts of fiscal empowerment, Mr Mukherjee will have to unveil some bold reforms that will revitalise the economy, especially the manufacturing sector. In its second avatar, the United Progressive Alliance government gives the impression of being tongue-tied on reform.
The Union Budget Speech is a major statement of policy intent on a wide front. Mr Mukherjee has said in several interviews that he too is a reformer like the prime minister and his immediate predecessor P Chidambaram.
This year's Budget Speech offers the opportunity to the finance minister to be remembered as such. The Budget must aim to promote the growth of employment-intensive sectors even as it reforms the tax system, paves the way for GST and ensures the fiscal sustainability of the growth process.