The food crisis was obvious in July but the government had unrealistic hopes of a good rabi, says Shreekant Sambrani.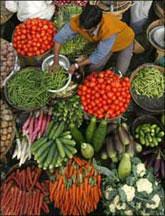 Pity poor Mr Pawar. The agriculture minister is grilled so badly these days that he often loses the thread of what he has said only recently. Two weeks ago, he said he was no astrologer and could not predict when prices would start coming down.
Since then, he has gone on to do just that, with sugar, pulses and so on. He said he would resign if weather could be guaranteed. What if it turns out that he was forewarned, and accurately so?
He is not alone. Policy-makers, from the PM to the UP chief minister, have engaged in the time-honoured game of finger pointing. The usual suspects are all there: Recalcitrant states, greedy hoarders, exploiting capitalists and, of course, God, for having visited upon us a terrible drought.
Our leaders, lost in the labyrinth of passing the blame, fail to understand that the present crisis was waiting to happen, both in the short run and the medium term, and nobody saw it coming (if one wants to be charitable), or (more realistically) chose to make believe that it would go away even as Cassandras including this writer were crying themselves hoarse.
First, the current year: I wrote four columns from July 5, 2009 to August 29, 2009, pointing to the seriousness of the situation and the increasing likelihood of its worsening, causing runaway inflation.
This was met first with denial and then with talking down the drought. The PM refrained from uttering the dreaded D word, calling it instead a monsoon deficit.
The finance minister chided his interlocutors by saying that if they continued to chant drought, the situation would not improve. Pawar said in the last week of July, when the kharif situation was pretty much lost, that things were "difficult", but improving, as the India Meteorological Department (IMD) had forecast 101 per cent of the normal rainfall for August.
Well, IMD was true to its calling of not getting things right and we ended up with a 23 per cent deficit monsoon. Our last bad drought, 2002-03, had a 21 per cent deficit, and the worst since Independence, 1972-73 had a 25 per cent shortfall.
No question then that we had a terrible calamity facing us, but we continued to believe rabi would be better, and that the buffer stock of 30 million tonnes (mt) would ward off shortages and inflation. The rabi optimism still persists, with even RBI saying that there would be no decline in agricultural production.
The facts are otherwise. Winter rains have played truant, most notably in the rabi bowl of the north-west, as they did during the monsoon. The rabi cereal sowing is down by 0.6 per cent (wheat area unchanged) as of mid-January.
This is on top of at least a 15 per cent drop in the kharif rice harvest, amounting to about 12 mt. A 230 mt of foodgrain production in 2009-10, the same as the last two years, would require other grains, mainly wheat, to make up the shortfall.
That would be a phenomenal 15 per cent increase in the winter crop, mostly wheat, which is a very tall order any time, and especially so this year. By comparison, food production dropped from 105 mt to 97 mt (8 per cent) in 1972-73 and from 212 mt to 174 mt (18 per cent) in 2002-03.
To expect that we would escape this fate in a drought of comparable magnitude and spread is an act of unwarranted optimism.
The story has a further twist: The present price rise is only partly due to the drought. The food inflation after the last drought from 2002 to 2004 averaged only about 4 per cent a year, based on the consumer price index for urban workers.
It is now hovering around 20 per cent, coming on top of a 10 per cent spike in 2008-09 and a similar one the year before. In fact, since the new series started in January 2006, the food index has gone up to 180.
Monetary tightening in 2007 and 2008 then helped hold the price line a bit, but never pushed it back.  Given the global recession last year, that option was barely available.
The Indian per capita income went up by 56 per cent between 2001 and 2009, from Rs 16,000 to Rs 25,000, while the population went up by 15 per cent, from 1 billion to 1.15 billion.
Considering that most Indians have still not had enough to eat, these changes would obviously push up the demand for essentials.
But output has barely kept pace with the population growth or declined: Grain production increased by 15 per cent before falling off this year, sugarcane went up 17 per cent up to 2007, but then dropped to the 2001 level, pulses have stagnated between 13 and 14 mt, tea around 0.8 to 1 mt, and coffee at 0.3 mt. These are all high on the inflation culprit list.
We have been squeezed between rising desires for consumption but constant or declining per capita availabilities for most articles figuring in the food price index for the whole of the last decade.
India's galloping aspirational growth has been yoked to a pair of limping bullocks in case of the most essential commodities. This inflation, which the aam aadmi -- for whom every politician cries a bucket of tears -- has been experiencing for now close to two-and-a-half years, has been a disaster in the making for a while.
Neither the economic mandarins nor the generals and captains of industry, now engaged in a self-congratulatory mood for having come out of the recession faster than the West, and what TN Ninan pithily called premature triumphalism, chose to see this coming. Herein lies the chronicle of an as yet unfolding tragedy.
Whether and how we could cope with this recurrent crisis is the subject of a companion piece.