Bliss it must have been in that dawn to be alive, but to be an economist working for Jawaharlal Nehru must have been heaven (with apologies to Wordsworth)! No retired bureaucrat around to say you are too young to be advising the prime minister!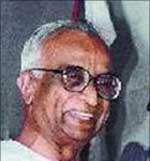 A 26-year-old, wet-behind-the-ears economist writing the opening chapter of the most important document of the day that the government of a new India was putting out. That is how Kakkadan Nandanath Raj, "Professor Raj" to generations of economists, would forever be remembered. The young student of Harold Laski whom Nehru sought out, on Laski's advise, to draft free India's first Five-Year Plan.
Every obituary that has been published in the past week has reminded us all that Professor KN Raj was an institution-builder. But most only refer to the Delhi School of Economics and Thiruvananthapuram's Centre for Development Studies.
My own familiarity with Professor Raj is linked to yet another institution that he had helped rebuild - the department of economics at Osmania University, Hyderabad.
Professor Raj was asked by my father who, in the early 1960s, was deputed by the Andhra Pradesh government to improve the fortunes of the once great seat of learning that the Nizam of Hyderabad had built with one of the grandest buildings for any university in South Asia, to help recruit "world class" talent for the university's department of economics.
He recommended three names: Gautam Mathur, the macro-economist whom Joan Robinson once referred to as the "brightest student she ever had", Raja Chelliah, a public finance expert who rose to great heights of policy-making, and NS Iyengar, a brilliant statistician and econometrician, who was trained by PC Mahalanobis.
It is a measure of Professor Raj's intellectual influence that he could get all three to join Osmania's department of economics and make that place compete for a while with his own institution in Delhi.
Professor Raj also played a role in the building of yet another economics department - the centre for economic studies and planning at New Delhi's Jawaharlal Nehru University. He was instrumental in getting the late Krishna Bharadwaj and Amit Bhaduri, both great stars of Cambridge University, to take up the leadership of creating a new centre for economics in Delhi, different from the Delhi School.
When The Economic Times celebrated its 30th anniversary in March 1991, my colleagues at that time, TN Ninan and TCA Srinivasa Raghavan, and myself sat down to prepare a list of all the economists in India who had shaped policy in those three decades who should be interviewed for the special anniversary issue.
Among those still alive and active at that time we identified four: KN Raj, IG Patel, PR Brahmananda and Manmohan Singh. I had the pleasure of interviewing each of them for the special issue.
The founder and original builder of Delhi School was Dr VKRV Rao, but the man who left his imprint on the institution was KN Raj. At its height of glory, when Raj was still director, Delhi School's faculty included Sukhamoy Chakravarty, Amartya Sen, Jagdish Bhagwati, Pranab Bardhan, Manmohan Singh, Mrinal Datta Chaudhuri, Suresh Tendulkar, KL Krishna and scores of others.
How many Indians of international repute who have headed national institutions in New Delhi have had the courage to retire to as remote a corner of India as Thiruvananthapuram, and build yet another institution of international repute that attracted scholars from around the globe?
That was what made Raj stand apart from many in his generation who migrated to cooler climes. When Raj chose to go back to his roots, he attracted a distinguished set of talented Indian economists, including IS Gulati, TN Krishnan and A Vaidyanathan, who left a lucrative World Bank job in Washington DC and flew straight to Thiruvananthapuram, "to work with Raj", as they would all put it.
Professor Raj was an institution-builder of another sort too. He took keen interest in the publication of the Economic Weekly, later to become the Economic and Political Weekly, a journal launched to offer "Indian" social scientists a domestic platform for publication so that they would not have to be beholden to editors of western journals.
The fact that intellectual giants like Raj published in the EPW not only made the journal academically respectable, but also secured for it a global readership.
Having written his doctoral dissertation on the monetary policy of the Reserve Bank of India, Raj remained loyal to that institution. When his friend IG Patel was governor and came under attack from the then Minister for Agriculture Balram Jakhar, who accused him of an anti-farmer bias, Professor Raj leapt to Dr Patel's defence.
He shot off an angry letter to Prime Minister Indira Gandhi, urging her to rein in her ministers and not encourage this political attack on RBI. Mrs Gandhi knew him very well and sought him out often for advice, as she did on the issue of the rupee's devaluation in 1966, but after the Emergency, their relationship soured. Professor Raj was a vehement critic of the Emergency.
The uniqueness of Professor Raj extended to his ability to engage politicians of all political hues in constructive policy debates. He debated with the likes of EMS Namboodiripad on the ideological Left as he did Minoo Masani on the Right.
He took keen interest in Asian economic development, inviting scholars from Japan, China and south-east Asian countries to CDS. Raj looked East long before New Delhi did. He was the first Indian economist to comment on the coming crisis of socialist economies long before anyone predicted the collapse of the Soviet Union.
That, in the end, was Professor Raj's unique talent - his ability to foresee social and economic trends. Clearly, Panditji was not wrong in asking that 26-year-old to think about an ancient land's new future!