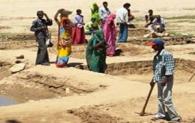 While there is no move to set up day-care centres for children of poor women, the rural jobs Act remains the only law to recognise it is a woman's right to have an ayah to take care of her children.
Behind every successful woman is a woman, in most cases an ayah who takes care of her children. The National Rural Employment Guarantee Act was the first law in India to mandate child-care facilities for women at work sites.
But what about other working women, especially those who can't afford a housekeeper or pay for a day-care centre?
A majority of women fall in this category. In a public interest litigation on right to food, the Supreme Court has ruled that anganwadis to feed pre-school children should be provided in every habitation.
But anganwadis don't provide day-care facilities and are victims of corruption. The Madhya Pradesh bureaucrat recently caught with unaccounted cash was heading the women and child development department of the state. The alleged scandal is yet to prompt the central government to take action.
There is not the faintest hope of the government setting up day-care centres for children when it can't run its anganwadis properly. As for the only law that mandates child care, it takes some tough activists to get it going.
In a book, activist KS Gopal of the Centre for Environment Concerns (CEC) cites the example of Nalla Singayyagaripally in Nallamada mandal of Andhra Pradesh's Anantapur district.
Here, earthen dams were being built under the rural job scheme in June 2006 and women were not allowed to work as the men thought that they and their children would be a distraction.
REDS, a non-government organisation (NGO) in Kadiri, Anantapur, and a part of the CEC initiative, stepped in. It surveyed the village and listed 33 households with women and small children and made the families aware of the law. The people were divided into three groups in such a way that each group had ten women with small children.
Officials refused to appoint ayahs, saying women with children were not interested in work. The ayas were appointed after much persuasion by NGOs. When the weather became too hot, the children were kept in the homes of these ayahs, with REDS providing them some ragi gruel, bananas and lentil paste.
The CEC example was followed in other villages. For example, in a village in Amadgur block, the anganwadi worker and the ayah tied up a smooth arrangement for children.
Why are policies in the country so blind to the most obvious of human needs?
Is it because common people are not part of the policy-making process? Should some of these mothers sit in the Planning Commission and ministries that are working on laws for them and their children?
Should senior citizens be part of teams drafting policies and laws for them? Should farmers be on committees working on agriculture laws? Or will policy and law-making remain the prerogative of those for whom they are not meant for?