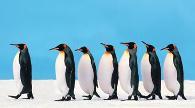 Organisations like the newly-formed CAI can help if interpersonal skill is listed on your debit column, says Shyamal Majumdar.
Your academic credentials are impeccable and your track record in the organisations you have worked so far is brilliant - in short, you are one of the "listers", jargon used by companies for somebody who is already on the elevator to the floor where the corner office is located.
Sounds familiar? Maybe - just maybe - you need a coach who can lend a helping hand to negotiate the many corners that lead to your destination. But before you think that having a coach is another fashion accessory or status symbol like the Mercedes you have acquired on your way up the corporate ladder, read on.
Leading HR experts say a coach can bring in the edge that is vital to make the transition from just another boss to the boss. It's particularly useful if interpersonal skill is something that is listed on your debit column.
Som Nath Nag, president of the newly-formed Coaches Association of India (CAI), says executive coaching is now being seen as a path-breaking HR intervention that delivers lasting behavioural change that truly benefits organisations.
Simply defined, coaching develops leadership skills by exploring the potential of each person and bringing about positive change by improving their quality of thinking.
Many companies confuse between a robust training model and coaching. Abhijit Pradhan, founder of coaching firm Super Star Solutions, says there is a vast difference between the two. While training is a more structured intervention and is a directive form of learning, coaching is much more customised and individualised. "It's a more discovery-based learning where the coach is more of a friend, an advisor, counselor and a sounding board," Pradhan says.
The belief also is that, under the right circumstances, one-on-one interaction with an objective third party can provide a focus that other forms of organisational support simply cannot.
That's important because as individuals advance in their career, development feedback becomes more infrequent, and more unreliable, with the result that many executives plateau in critical interpersonal and leadership skills. Also unlike training, coaching is usually given only to high-performers.
Nag agrees. Imagine the liberation, he says, when corporate warriors instead of living in a command-hierarchical model, start working in companies that liberate their energy, play to their strengths and build a collaborative framework.
This may sound a bit theoretical, but many corporate leaders subscribe to this. UK Sinha, chairman and managing director of UTI, says CAI is a great initiative for Indian companies. "I have personally seen the effectiveness of coaching in organisations and am extremely happy to be supporting this association."
And there is a great return on investment (RoI) too. Though no such hard data are available for Indian companies, a recent study by the Manchester Consulting Group of Fortune 100 executives found that coaching resulted in an RoI of almost six times the programme cost as well as a 77 per cent improvement in relationships, a 67 per cent improvement in teamwork, a 61 per cent improvement in job satisfaction and a 48 per cent improvement in quality.
Another study of a Fortune 500 telecommunications company found that executive coaching resulted in a 529 per cent RoI (MetrixGlobal), a truly remarkable figure.
That is where entities like CAI will play a useful role. Launched earlier this month, it is India's first online exchange that aims to champion the cause of coaching in India and South Asia.
It's a not-for-profit organisation, sponsored, amongst others, by global leaders in the field of HR, such as Franklin Covey Coaching, Results Coaching Systems, CLS Situational Leadership and DOOR Coaching.
Nag says he formed the association as there was no formal alignment between the number of certified coaches practising in India and corporate clients who were using coaches either on an ad hoc basis or without realising the true potential of having a formal engagement with professional coaches.
CAI will act as a neutral coaching exchange that would facilitate the requirements of India Inc.
It will also bring together coaches (certified by a pathway recognised by the International Coaching Federation) and corporate clients.
There are about 400-500 certified coaches in India, and Nag is hopeful of having at least half of them on his website within the next two weeks (50 enrolled in the first week).
It will also keep coaching practices contemporary through a series of educative and researched publications on its website, as well as hold webinars, seminars, podcasts, public talks, etc.
Clients can search and locate coaches on the CAI website, matched on the basis of their needs and the coach's profile. Once they have identified the coach, they can enter into an agreement based on parameters laid down by the association which gets a pre-agreed revenue share.
Associations like CAI will certainly be useful for stopping companies from going to mom-and-pop stores run by coaches without appropriate training.