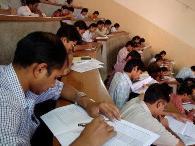 Students in eight medical colleges in Mumbai recently discovered the wealth of knowledge they could gain by spending time with people, says Sreelatha Menon.

The week Vikrant Tambe, a final-year student of MGM Medical College in Mumbai, spent with policemen in Mumbai's police stations will perhaps remain the most defining time of his entire medical education.
Tambe, along with some classmates, spent time talking to the policemen about their routine and their health problems as part of an exercise undertaken by Piramal Healthcare for its Help Your Body Mumbai campaign.
It was a rare chance, for students are not part of any development or action plan in the country, except for stray cases of social workers like Pradeep Ghosh getting colleges in Madhya Pradesh to work on social security projects in villages.
Tambe was moved by the over-stressed life the policemen lived. They were obese, and many of them had diabetes. They ate irregular meals and so their pancreas were not working properly. But the worst thing was that there were no counselling centres for them, he said.
But for this exercise, he would not have thought so deeply about the origin of various physiological problems faced by the country's policemen.
Now, if one were to see the routine of someone like Tambe, it is not better than that of the policemen he pities. He starts the day at six, reaches college at 8.30 am, leaves his class at 4 pm, goes for tuition, and reaches home at 10 pm.
If policemen need counselling, what do students in these professional colleges need? The National Institute of Fashion Design chains students to an endless routine of assignments that are submitted and marked daily.
Missing classes could mean having to repeat the semester. The curriculum gives more importance to attendance than results. Recently, a student at one of the centres was unable to see her dying father as she could not miss her classes for fear of having to repeat the semester.
Tambe says education in medical colleges is mostly learning by rote. We don't understand most of what we learn, he says, adding "we do nothing but study as exams are held every month." He said less books and more practical lessons would make them better doctors.
Mumbai's Nair Medical College, which also took part in the programme, has approached the education minister of the state to make its one-time counselling work with school children a regular affair.
Pushkaraj Shenai, president (group corporate brand), Piramal Healthcare, says other professional colleges should take a leaf out of this and connect students and learning with life.
We want to take this to other colleges and metros, he says.
The country's young have so far been kept out of the process of social change and the college curriculum has been divorced from the needs of the country.
Can college students have a role in bringing down maternal and infant mortality rates, and in eliminating polio and cholera? Can they have a role in improving the quality of teaching in schools?
With a strength several times the country's armed forces, university students can be used as a peace-time army if the college curriculum is changed from an attendance-based drab routine to a life- and result-based process.
Students who took part in the Piramal campaign are hoping that Education Minister Kapil Sibal uses his reform wand on university education. If that happens, we will have better professionals in all fields, say the students.