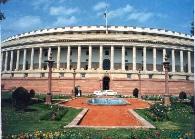 Just as Sachin's magic is still in the ascendant, so perhaps is the story of reforms, says Ajit Ranade.
Invariably a Finance Minister trying to navigate between growth and fiscal restraint invites comparisons to a cricket shot that has to score a boundary, but remain between mid-on and mid-off.
Not much firepower in those straight shots although they are less risky than hooks and pull shots. So an effective budget is workmanlike, refrains from announcing big bang reforms, but scores runs nevertheless. That's what this budget has done admirably.
But the cricket metaphor this time is appropriate for a wholly different reason. For, this budget comes after two decades of India's economic reforms, a period that also coincides with the reign of cricketing maestro Sachin Tendulkar.
And just as Sachin's magic is still in the ascendant, so perhaps is the story of reforms.
Indeed, the backdrop to this budget is not merely the very visible economic recovery, but major policy milestones, such as the 13th Finance Commission's recommendations, the once in 50 years revamp of direct taxes, a completely new company law and, of course, the rollout of GST.
Beyond these major economic policy steps is something even more momentous, which the cacophony of the budget headlines may have drowned out. The Cabinet approved the women's reservation bill, a feat which has taken 20 years –as long as Sachin's career!
When this bill is passed in Parliament, as is expected, it will be a remarkable milestone in India's democratic journey.
For his part, the Finance Minister did announce initiatives with far-reaching reform-like implications. The Right to Food legislation which he said will soon be drafted, will have a big impact on inclusive growth. Just as the NREGA sceptics have dwindled in numbers, so also the Right to Food naysayers will have to eventually eat crow.
The UPA government in its two innings would have scored a hat trick of enshrining and giving teeth to laws such as the Right to Information, employment and now, food. And that's not counting the recently legislated right to education.  That's an impressive record for a government committed to inclusive growth.
This rights-based approach entails a huge fiscal burden which critics object to for two reasons: (a) that we cannot afford it; (b) that the bigger problem is in implementation. But in a democratic framework we simply cannot give up because of implementation failure.
However inefficient the delivery system, it can only improve. And as Amartya Sen says, we cannot allow the best to be the enemy of the good. 
Other equally important policy initiative is in financial sector reforms. The setting up of a Financial Sector Reforms Commission will hopefully give much needed coherence to the reforms journey.
Incidentally, the announcement of allowing newer private sector players entry into banking is an acknowledgement that we need huge amount of banking capital. If India needs a consistent 9 percent GDP growth it will need large doses of bank capital.
Moreover newer players can only enhance financial deepening and financial inclusion. 
The requirement on new entrants can be stringent, transparent and can also include compulsory dilution in a specified time.  The marriage of technology (UID, mobile telephony) and financial services can indeed have big bang impact on the development of the financial sector.
Even though it offers an opportunity for presenting an economic policy vision, ultimately the budget is about numbers, an annual financial statement with projections for next year.  Judged in this narrow sense, the budget stance is pro growth, with of course an inclusive agenda. Lower income taxes will increase disposable incomes, leading to more consumption spending.
The mix of spending also has skewed toward more Plan (i.e., capital) spending, with a bigger share of infrastructure, which contributes to long term growth. On fiscal discipline there are several positives.
Firstly there is greater fiscal transparency, as oil and fertilizer subsidies are no longer hidden elsewhere but show up in the budget, and are now paid in cash instead of illiquid bonds.
Secondly there is noticeable expenditure control, as the total has risen only by 8 percent whereas GDP may rise by 15 percent in nominal terms.
Thirdly the projected borrowing for next year is lower than market expectations, which perhaps explains the exuberant response of the markets. This may put less pressure on interest rates, although with inflation and the 5.5 percent projected deficit, interest rates have limited room to go down.
Lastly the mention of explicit numerical targets for the next two years conveys a greater commitment.  As such with GST and widening of the tax net, fiscal relief will come from growth and compliance much more than expenditure compression.
The reforms in the coal sector are also significant and overdue. A coal regulator and an auction mechanism to allocate coal blocks will greatly enhance efficiency. e need bigger steps to extract this energy source more efficiently.
Hence the baby steps in coal sector reform are timely and welcome. Of course the budget speech also gave a nod to the environment angle, and has introduced a tax on all fossil fuels, a sort of carbon tax. This is a progressive long-term measure.
Overall, this is a budget with a pro growth stance with an attempt at fiscal restraint and some initiatives with major long term implications. It stays within mid-on and mid-off but does score boundaries.
After twenty years of India's reforms, nay his debut, Sachin recently scored four test centuries and an awesome ODI double ton.  His best is not over. Assuming his journey is mimicking India's economic journey, with GST and DTC round the corner, look for a high scoring economy in the coming years.
Ajit Ranade is Chief Economist, Aditya Birla Group.