The real winners will be those companies who best align social, environmental, human and financial aspects of their work, says Rajni Bakshi.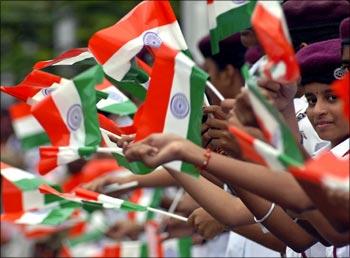 Gloom and doom seem to be in fashion. A Hollywood film about the end of the world did roaring business in India recently. The summit in Copenhagen, built up as the last chance to save the world from fatal climate change, ended up being renamed ' Hopelesshagen'.
An 'Earth from Above' photo exhibit, currently in India, offers exquisite images of our home planet along with staggering information about the pace at which eco-systems are being destroyed. And then there are fears of recurring financial crises, proliferating terrorist networks and still worse.
But what if the gloom and doom is bit like a foggy window?
Would a clearer view be still more scary or. . . might it be fun and open the way to a whole universe of opportunities?
Answers to these questions are to be found in that vast space which stretches between the despair of 'doomsday is at hand' and the smugness of believing that business-as-usual will ensure that 'all is well'.
This space between dumb-doom and empty-hope seems to be the natural habitat for a lot of Indians who are 20-something.
In lecture halls of MBA classes, at business conferences, in college cafes -- I've been picking up signals of both creative gusto and an intense puzzlement among those who will create tomorrow's companies.
"You've told us stories about innovations that build the economy and save the environment, but where are the role models for this kind of success?" asked an MBA student at Pune University, after I had given a talk about the concept of Triple Bottom Line -- a mode of business which defines profit in financial, social and environmental terms.
Besides, said another student in the audience: "Communism is a failure, now it looks like capitalism won't work either. . . .so what will?"
True, there seems to be a scarcity of readymade role models. Even those who have partial answers, that are an anti-dote to pessimism, rarely make headline news.
This column will be a space for stories, ideas, people, actions -- from different parts of the world and various spheres of life -- which illuminate the creative possibilities that are flourishing between the extremes of not just hope and despair but also extremes of entrenched ideology.
Some of the most exciting, and least noticed, areas of creativity are in the realm of business.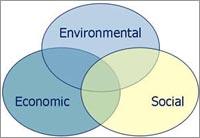 Ten years ago the British environmentalist and business consultant, John Elkington, coined the term Triple Bottom Line as a counter to the old measure of a single, money, bottom line. This concept put a strong wind in the sail of Socially Responsible Investing (SRI).
In the last ten years SRI has gone from the fringes to a mainstream phenomenon. There are currently an estimated $3 trillion under management by funds that look for returns not just in money, but also in social and environmental gains.
Though these trends have been slow to catch on in India, Standard & Poor's has worked with the National Stock Exchange in Mumbai to launch an index that will help investors to track the Environmental, Social, Governance (ESG) performance of companies.
In mid-2007 a global team of leaders from companies and NGOs set down the principles that would enable businesses to generate win-win outcomes for their staff, shareholders and society at large.
This group's report, titled 'Tomorrow's Global Company: Challenges and Choices', said that making money is no longer the true measure of success. Instead, the real winners will be those who best align social, environmental, human and financial aspects of a companies' work.
And this cannot happen if individuals and companies compete so furiously that they generate lose-lose outcomes. So the future depends on working together to support sound regulatory frameworks and international agreements that promote prosperity with social and ecological well-being.
Even though this global team was co-chaired by Nandan Nilekani, -- then still at Infosys, and included G V Prasad, CEO of Dr Reddy's Labs -- it has barely been heard of in India.
Of course, the challenging student might easily scoff at such a report and dismiss it as wishful thinking.
Except that there is data to show that 'Firms of Endearment' produce better long-term results than the old style companies dedicated to making profits without accounting for their social or ecological costs.
Firms of Endearment is a term coined by a bunch of business school professors, in the United States of America, whose research shows that we are entering an Age of Transcendence as more people seek a higher meaning, not just material possessions.
Yes, these developments are a still thin silver line on a dark cloud. Plus, as the power plays in Copenhagen showed the early-developed nations are determined to hang on to their advantages at the cost of the overwhelming majority of the world's population.
But what better place than India, for potentially game-changing ideas to be challenged and applied? Here the gap between potential and reality is starkly self-evident. Who knows this better than the under-25 wanna-be entrepreneurs from Chhattisgarh and Jharkhand, who attended a summit recently organized by The Indus Entreprenuers (TIE) in Mumbai.
In the inaugural session they had heard both Tata Group Chairman Ratan Tata and Infosys co-founder N R Narayana Murthy talk about growing an inclusive and sustainable economy with expanding opportunities for all. But a few miles out of Durg (in Chhattisgarh), where some of those young folks come from, there is a bitter three-way war between Maoist insurgents, the government and the local people trying to hang on to their jal-jungle-zameen (water-forest-land).
To most of those young people this conflict seems intractable -- a classic win-lose situation in which local people are doomed to ever-increasing misery while the rest of us get the steel, wood, water and aluminum we want. But when they are urged to push the limits of what now seems possible, those young people's eyes sparkle with excitement.
There are a lot of people out there hungry to build a prosperity that lasts and thus eager to stare down those whose imaginations are limited, who tell them none of this is possible.
A rather basic principle might serve as a useful guide for the onward journey. Pessimism is for better times.
Image: Schoolchildren waving the Indian flag. Photograph: Reuters
Rajni Bakshi is a Mumbai-based freelance journalist and author of Bazaars, Conversations and Freedom: For A Market Culture Beyond Greed And Fear.