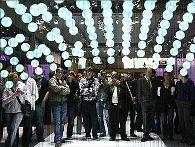 Cloud computing is helping corporations create new, cost-effective business models. It has opened a world of opportunities for Indian IT companies, says Leslie D'Monte.
Devang Mody, the head of sales finance & cross selling at Bajaj Finance, is a happy man. He has been able to reduce the time taken to process applications for consumer finance from 45 minutes to just 5 minutes by adopting 'cloud computing' - techno-speak for online or internet-based computing.
The program went "live" in April 2009, and "it has exceeded my expectations", says Mody. "This strategy helped me make customers happier by allowing them to file their applications online and get approvals faster, besides reducing my capital expenditure since I did not have to add any hardware or buy new software licences."
In Hong Kong, Mark Ross, vice-president & chief information officer of Sun Life Financial Asia, is no less happy. He was aware that most interactions in the insurance industry were still on paper or through call centres.
To push customer service a notch further, he wanted his customers, internal users, insurance agents and partners such as banks to access critical information securely at any given time. He evaluated options available and decided that the cost of doing this in-house would be far too high and time-consuming.
"Even before the financial crisis, it would have been difficult to convince the management of the large outlay required for an in-house system. After the crisis hit us, it wasn't even worth considering. It had to be a cloud-based offering." Ross now uses the cloud as an interface to the core system (records and so on). "There are no fixed costs. We did not have to buy hardware. And the actual implementation cost is just a third of what it would have cost had we added computers and servers," says he.
Ross and Mody are two of a growing tribe of users who have started moving their information technology (IT) businesses to the cloud. This has helped them speed up their consumer-facing businesses (their core strengths), while reducing capital expenditure.
Clouding up
Despite its somewhat esoteric name, most people who use web-based email services, have watched a video online, shared snaps using photo-hosting services, read news online or watched TV shows on the internet may not realise that they are actually using  'cloud computing' services. Most players provide these services for free for individual users. For enterprise users, it's generally a paid subscription-based model - Google Apps is an example.
"A true cloud offering," says Jeremy Cooper, vice-president (marketing) of salesforce.com (vendor for both Bajaj Finance and Sun Life) for Asia-Pacific, "is one that is subscription-based, which involves no purchase of hardware, software but only needs an internet connection. It could also be a multi-tenancy model where a single infrastructure is used by many (like Google or Yahoo)."
Indian IT services firm Patni Computer Systems says it hopes to become the first company in the country to host all its IT services on the cloud. The company's pilot is in place and the data reside on a large business-to-consumer (B2C) player's data centre.
Patni, according to Chief Executive Officer Jeya Kumar, plans to have all its internal IT services hosted on the internet with many B2C players by June 2010. The company, says Kumar, spends around Rs 190 crore (Rs 1.9 billion) on its internal IT needs annually. These include servers for storage, desktops, networks and bandwidth.
"We are our own guinea pigs when it comes to cloud computing. Once we are convinced that it is secure and fruitful, we will extend these services to our customers too," says Kumar. Not only will Patni be "able to save around 30 per cent by way of capital expenditure and another 30 per cent on space when the process is complete", says Kumar, but "when we acquire a new company, we will not need two data centres even if the headcount doubles. The complete new portfolio from the acquisition will be hosted on the web."
Wipro too has built a "private cloud" for internal use. The software giant is now offering that expertise to existing customers to optimise the computing power of their data centres. Wipro is also building what it calls the "enterprise cloud" - a capability it plans to offer to clients who have already outsourced or plan to outsource their hosting or infrastructure management activities with the company, according to Girish Paranjpe, Joint CEO of the company.
"Creating a private cloud is something that Wipro can help clients with. Managing security within private clouds is what Wipro can do. It is much more efficient both in terms of costs and kind of provisioning. Earlier, we in Wipro noticed that once we placed an order for a server, it used to take 43 days to install. Now that we have capacity on demand, we have to just switch on, and it takes just 36 minutes," says Paranjpe.
Many opportunities
Infosys has cloud computing-based solutions for the auto sector. And others such as HCL Technologies, Tata Consultancy Services and even Bharti Airtel (with its network PC) aren't far behind. They will no doubt have stiff competition from global majors. Sensing the huge opportunity in India, IBM has already set up a cloud computing centre in Bangalore. Oracle is getting its act together, while Verizon launched its cloud computing service in India in August 2009.
The opportunities are simply huge. HCL Technologies CEO Vineet Nayar says cloud-based enterprise services provide an opportunity to create new business models and should not be seen as just another technology. It is a shift in the way IT delivers business capabilities.
Smaller Indian players are also fast taking the cue. Hexaware Technologies, for instance, has announced a strategic partnership with SOASTA, a leader in cloud testing, according to R V Ramanan, president of global delivery. Akash Saraf, CEO of Zenith Infotech, also a hardware vendor, concurs that the move to cloud computing "will certainly make maintenance obsolete."
Zenith recently launched its private cloud computing service called Proud. It is a single centralised computing system which replaces the need for customers to buy computing and networking hardware as separate components. Since the customer can run its entire IT infrastructure - desktops, servers, storage, networking and applications like enterprise resource planning, security and so on - it helps save on cost and maintenance.
The number of applications and the amount of content in the cloud now available to both consumers and corporations has grown to a critical mass, according to analysts at Booz & Company.
Gartner says worldwide cloud service revenue will surpass $56.3 billion in 2009, a 21.3 per cent increase in revenue from $46.4 billion in 2008. The market is expected to reach $150.1 billion in 2013. The Indian market, according to Springboard Research, will register compounded annual growth of 76 per cent between 2007 and 2011 and reach $260 million (around Rs 1,300 crore) in by 2011.
Cost saver
"Companies love the cloud as they have only operating costs to pay. The cloud is a win-win for everyone. As more and more people are using multiple screens, desktops, laptops, mobile phones and TV screens to access their data, the cloud is inevitable. Corporate India can save lots of money by using the cloud," says Vijay Mukhi who promotes 'The India Cloud Initiative'.
Ascentius Consulting Principal Analyst Alok Shende: "We anticipate cloud computing to be adopted in segments that currently have low IT penetration and demand solutions with low complexity. Small- to medium-sized businesses will be the prime candidates.
Large enterprises may have some initial concerns on compliance, data security and unproven reliability of cloud computing. However, there will be pockets such as back-up storage and hosted email service where large enterprises will be more open to employ the cloud."
When a company needs more capacity during its peak season, it simply pays for it on demand. When business slows down and the company needs less capacity, its bill goes down because it uses fewer resources. In financial terms, this allows a company to move much of its infrastructure costs from being a capital expenditure to an operating expenditure.
Research firm Saltmarch Intelligence says data confidentiality and auditability topped the list of primary obstacles for the use of cloud computing technologies in their organisations, according to a survey of over 1,100 Indian Business Technology professionals.
"Security incidents in the cloud have made clear that this new promising technology comes with complexity and security and privacy challenges. Cyber attacks are executed with precision and patience and security technology seems to fall behind the threat curve," says Indu Britto, group publisher & senior vice-president, Saltmarch Media.
Vendors say they have the resources to make their data centres more secure than anybody ever could and resilience is better because data is distributed and backed up in geographically dispersed locations. Cooper of salesforce.com says: "That cloud computing compromises security is a myth. We have 1,800 customers who mostly comprise financial institutions and banks."
Analysts also say that few firms have worked out "which data should go where from a business point of view. This failing means moving everything to the cloud would not provide any real benefits as the fundamentals have not been sorted out. It would merely "create a new set of network dependencies because the data is no longer in the same data centre".
There are other hurdles too. Dearth of sufficient bandwidth, lack of robust networks, virtualisation and security issues could delay adoption of the technology. More than 30 per cent of large businesses have some enterprise applications in the cloud, but two-thirds do not have a security strategy for cloud computing, a survey conducted by IDC found.
Image: Visitors watch a presentation about cloud computing at the IBM booth at the CeBIT computer fair in Hanover.
Photographs: Fabrizio Bensch/Reuters