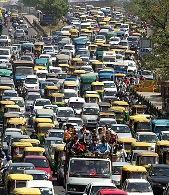 The proliferating flyovers, eyesores every one of them, merely redistribute traffic to new choke points, says T N Ninan.
Inside Pragati Maidan, the capital city's exhibition complex, there is great excitement about new car models and what they testify to: the arrival of India's automobile industry, the creation of a global hub for making small cars, and demonstration of what Indian manufacturing can achieve.
Outside the Maidan, in much of the city, the roads are clogged as traffic crawls. Is it possible to have one without the other? If not, we are in for an urban nightmare. India has about 11 million cars. In 15 years, according to a believable projection, that number will have nearly quadrupled to 41 million.
The very thought will make most people shudder. This is a good example of what the country sees in many areas of activity: the private sector working, and public policy failing.
Yet, India has only a tiny percentage of the world's car population. The US makes as many cars in a year as India's total accumulated stock. But cities in the emerging economies are not well planned, and typically have less circulation space, so the problems arrive sooner and with smaller numbers.
Beijing, for instance, already has six concentric "ring" roads, and has more than trebled road space in the last three decades. It also has a metro system that carries four times the number of people that Delhi's metro does.
Yet it has traffic problems, with just 4 million cars. Delhi with two "ring" roads seems headed that way, without the managerial capabilities that the Chinese have demonstrated for coping with the challenges of growth.
Singapore and Shanghai have adopted one approach to the problem; they auction a limited number of car licence plates every year. In Shanghai, the limit is just 50,000 - whereas 3,50,000 new cars hit Delhi's roads every year.
Delhi could attempt similar rationing, but curbing personal transport works only if you provide efficient public transport as an alternative. New York provides a good model. More than half the city's households own cars, but less than a quarter drive to work alone, and 6 per cent form car pools.
The majority go by subway, bus or commuter rail, while 8 per cent walk. If Delhi could develop public transport, car ownership and car use would be similarly divorced.
But however much you expand Delhi's metro, from the present nearly 100 km of track to the planned 200 km and more, it is not going to be enough - New York's subway system already has more than five times the ridership of Delhi's metro.
The bus network has to be developed in a parallel drive, but the bus rapid transit (BRT) system has been bungled in implementation and the public now has no patience for the idea - which is a tragedy because there is no alternative. Far too much of the city's road space gets hogged by the small minority that uses cars.
Go further down this road and the city will grind to a halt. Average speeds have dropped already to 15 kmph in many places. Soon, it might become faster to walk - except that you will have to breathe the poisonous air of exhaust fumes.
 People can see that none of the attempted solutions to the city's traffic problems is working. The proliferating flyovers, eyesores every one of them, merely redistribute traffic to new choke points.
Expressways to the suburbs of Gurgaon and Noida bring more cars faster to the same choke points. The metro network is expanding, but traffic on the roads gets worse. There is only one solution: more public transport, of every possible kind. The question is how long the city will live in denial before accepting an inescapable reality.