A WTO ruling opening up China to Hollywood should help Bollywood too, Sanjaya Baru.
Bollywood is becoming big business, said the opening line of the lead story in the Business Standard last week. This was a report on 3 Idiots making business history in Indian cinema, grossing Rs 240 crore (Rs 2.40 billion) in the first ten days.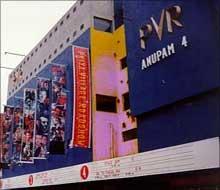 For a decade now, the business of cinema in India has undergone significant changes. Banks and business houses are now into financing movies. Marketing companies thrive on selling not just movies but a whole range of products linked to movies and actors. And, increasingly, the business is becoming global.
Of course Bollywood's business pales in significance when compared with Hollywood which, despite the recession, saw domestic ticket sales in the United States alone grossing close to $10 billion last year, with foreign ticket sales estimated to be around $12 billion.
Frames, the media and entertainment business division of the Federation of Indian Chambers of Commerce and Industry has estimated that by 2013, the media and entertainment business will amount to Rs 105,200 crore (Rs 1,052 billion) of which filmed entertainment would gross Rs 16,860 crore (Rs 168.6 billion), growing at around 9.1 per cent over the next three years. While Bollywood's revenue numbers are nowhere near Hollywood's, it churns out more films and now screens them in nearly a 100 countries around the world.
I was a stranger to the economics of Indian cinema till one day in 1994 filmmaker Kumar Shahani walked into my room at the Times of India and chose to educate me on the debates in Paris that he had been privy to on the United States seeking to bring trade in cinema and other entertainment products under the purview of the World Trade Organisation. The French were worried, Shahani told me, about American cultural hegemony.
Free trade in cinema will mean the global domination of Hollywood. India must join France in opposing this," Mr Shahani said, urging my newspaper to comment editorially against the US move.
Given my regard for Mr Shahani as a filmmaker, I promised to familiarise myself with the issues and then take an editorial view on the matter. But when I did my homework, I realised that he was on the wrong track. The French may have problems surviving the onslaught of Hollywood, but free trade in cinema, I was convinced, would benefit Bollywood.
The Indian diaspora is a ready global market that can be better served if all countries that are home to people of Indian origin have open markets to Indian cinema. That apart, Indian cinema has the capacity to create a global market for itself across different societies.
The popularity of the idiosyncratic tamil actor Rajnikant in a conservative society like Japan was only a recent example. For years, Indian cinema has been viewed and Indian film songs heard in diverse societies across Africa, Central and South-east Asia and our own neighbourhood.
The significance of that US initiative to bring the film and entertainment business under the purview of the WTO came home to us last fortnight when a WTO appellate tribunal ruled in favour of the US and against China on the latter's restrictive trade practices, preventing free import of Hollywood cinema into China.
This is a problem Indian diplomacy has been grappling with for some time. Attempts to import more Indian films into China have been repeatedly scuttled by Chinese authorities.
After much lobbying, India's former foreign secretary Shiv Shankar Menon succeeded, when he was India's ambassador in Beijing, in getting Chinese approval to import at least four Indian movies per year into China. Beijing has for long capped the number of foreign films to be imported into China at 20 films per year.
Despite Mr Menon's success in getting India a quota of four out of this 20, his successor Ambassador Nirupama Rao, the present foreign secretary, had a tough time getting Chinese authorities to adhere to this obligation and finally managed to get Aamir Khan's Lagaan screened. This film was approved by Beijing authorities on the grounds that it had an "anti-colonial theme"!
In objecting to the import of Indian cinema, China's censors would usually give the same reason as they gave the WTO in defence of their opposition to importing more Hollywood films. That they are all "morally corrupting"!
The WTO has not questioned China's right to impose a ceiling on how many foreign films it can import, allowing the cap of 20 to remain, but it has ruled against government monopoly in the import of films.
In a detailed report on the WTO ruling, the Christian Science Monitor (21/12/09) quoted a film trade analyst studying the implications of the WTO decision, David Wolf, as saying: "The WTO decision not only cracks China Film's (government agency) iron grip on distribution, but also weakens the 20-films-per year import cap that remains in place. With the monopoly broken by the WTO appeal ruling, there will be a need to ensure that China Film continues to make its accustomed money even as more state-owned or joint venture film importers start to take a piece of the pie. If more than two companies can bring imports in, distributors will have to balance the release dates of films more carefully."
Such competition between local distributors, Mr Wolf believes, will improve visibility of Hollywood cinema in China. China is estimated to have 5,000 screens and many of them in new multiplexes. Ticket sales in 2009 were estimated to have grossed US$635 million. It is a growing market that would welcome Indian cinema.
The WTO ruling has helped prize open a tightly shut door. But the door has just opened a wee bit. When it opens wider, it should help open up the growing China market to Bollywood too. Clearly, signing up for freer trade in cinema and to adherence to WTO discipline is helping. I hope Mr Shahani is reading this column!