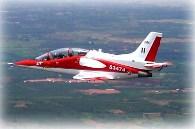 Defence offsets will quicken the pace of India's high-growth aerospace industry, says Toby Simon.
From Wright Aeronautical Company to Rolls-Royce, private companies have played a part in shaping the global aerospace industry. However, the government and the aerospace sector are like Siamese twins.
The economic scale required for development in aerospace is large, and hence the industry depends on the government for infrastructure development and R&D. This dependence carries risks, as spending is subject to the political process. Hence, it is one of the toughest markets to tap.
The government hopes to turn this constraint into an advantage through the offset clause, mentioned in the Defence Procurement Procedure (DPP). It wishes to encourage private sector involvement, and is hoping to have $30 billion (about Rs 140,000 crore) generated in offset opportunities.
The effective implementation of such an offset policy can facilitate the absorption and indigenisation of foreign aeronautic technologies that accrue to the country by way of offset deals.
In doing this, the government wishes to emulate the success of Brazil, Israel and Spain. Embraer Corporation, the Brazilian aeronautics major established in 1969, is a noteworthy success story.
The company proved to be the leader in the absorption and indigenisation of foreign aeronautic technologies that accrued to it by way of offset deals. In the 1960's, Embraer's first military plane, the EMB 326 Xavante trainer, was manufactured under licence from Aeromacchi, Italy.
In the early 1970s, Embraer signed a technology transfer agreement with Piper of the US for manufacturing Piper Seneca light aeroplanes. In 1975, when 49 F-5 aircraft were bought by Brazil from Northrop of the US, Embraer was involved in manufacturing several fuselage components.
The 1970s and 1980s saw further growth, as Embraer embarked on a co-production arrangement with Aeromacchi and Aeritalia to build a subsonic light attack jet fighter, the AMX. Different parts and subsystems of this aircraft, such as engine components, multi-mode radar and head-up display, were made in Brazil under licence arrangements.
The 1990s saw the development of SIVAM, a huge monitoring, surveillance, communications and air traffic control system for Brazil's Amazon basin area. It was a $1.4-billion contract that went to Raytheon, Embraer and other Brazilian companies.
The SIVAM project was a major step in technology absorption by Brazil and served to develop local software capabilities. In 1999, with 40 per cent market share, Embraer stood about equal to Bombardier. It is this example that the Indian government wants to duplicate. 
India already has a strong aerospace industry, and aerospace component- and defence equipment-makers have been thriving. The country has a pool of qualified engineering, science and computing graduates; availability of high-tech/precision equipment, materials and consumables; established production systems; a strong IT industry; world-class educational institutions; a good network of aeronautical development labs; favourable geographical location and manufacturing cost advantage. 
The aerospace industry is, therefore, set to contribute substantially to India's economic growth. Over the last 16 years, India has seen more engineering and R&D investments in aerospace than the US or Europe.

In Bangalore, Honeywell Technology Solutions has set up an engineering facility with over 5,500 engineers, while GE's Jack Welch Technology Centre has an extensive research lab with over 3,000 engineers.

Airbus is setting up an Airbus Engineering Center India (AECI) facility, which will hire 200-plus engineers of its own, and more than 2,000 through its partners. 
Indian aerospace companies are growing too. HAL was ranked 40th in Flight International's list of the top 100 aerospace companies last year. And the growth of the aerospace industry has led to the opening up of spin-off opportunities in other sectors. Offshore engineering services, for one, have seen a spurt in growth.

According to a Nasscom-Booz Allen Hamilton report, there will be a $40 billion opportunity for the offshore engineering industry worldwide by 2020. India is expected to have a 2-3 per cent share in the aerospace offshored engineering service. This amounts to $1.2 billion by 2010.
Growth in the aerospace industry has allowed a number of automobile manufacturers to exploit forward and backward linkages with the aerospace industry. India is also equipped to become a hub for maintenance, repair and overhauling (MRO). The MRO market in India was valued at $970 million in 2008, and can absorb massive investments.
The government, on the advice of the Kelkar Committee, has opened up the aerospace industry to the private sector. State governments are doing their bit by setting up special economic zones (SEZs) for the aerospace industry. These include:
The Rs 3,000-crore Aerospace and Precision Engineering Special Economic Zone to be set up at Adibatla, Ranga Reddy district in Andhra Pradesh
The specialised aerospace park of around 1,000 acres, proposed near the Bangalore International Airport;
The 2,500-acre SEZ for the aerospace and avionics industry, proposed to be established in south Gujarat, close to the Delhi-Mumbai industrial corridor. This is likely to have a number of MRO facilities.
The cumulative value of the Indian defence market for the next five years is approximately Rs 180,000 crore (Rs 1.8 trillion), which makes it one of the most attractive in the world -especially, with the capital outlay for defence hiked this year to Rs 54,824 crore (Rs 548.24 billion), up from last year's revised estimate of Rs 41,000 crore (Rs 410 billion).
Indian companies are all set to supply in this market. Hero Motors plans to produce light aircraft at its 300-acre aerospace park in Madhya Pradesh, in partnership with an unidentified European manufacturer.
The Tata group is keen to move into full-scale aircraft assembly and production in both the civil and military markets. The group has sought approval to set up an aerospace manufacturing facility on the outskirts of Hyderabad.
Tata has already signed deals with several International companies, including one to manufacture components for Boeing. It has taken a one-third stake in Italy's Piaggio Aero, while Israel Aerospace Industries (IAI) and Tata have signed a memorandum of understanding to establish a new company to develop, manufacture and support a wide range of defence and aerospace products, including missiles, UAVs, radars, electronic warfare systems and homeland security systems.
Mahindra & Mahindra, meanwhile, has signed deals with BAE Systems, and is jointly developing a five-seat light aircraft with the National Aerospace Laboratories. Larsen and Toubro (L&T) has formed a joint venture with the European EADS to develop high-tech defence electronics in Pune.
This venture will focus on developing electronic warfare, radar, military avionics and mobile systems for military applications.
So, it is clear that this industry will act as a growth stimulant in coming years. However, to fulfill its potential, it must surmount challenges such as inadequate R& D investment, dispersed production centres, frequent change in regulations, and poor co-ordination amongst the different players.