India's gesture will signify a good faith commitment to adhere to and follow up on the Copenhagen Accord, writes Anuradha R V.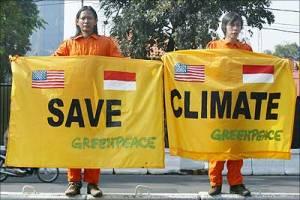 The Copenhagen Accord on climate change sets January 31, 2010 as the deadline for developed countries to submit individually or jointly quantified emission targets, and developing countries like India to enlist mitigation actions on climate change.
In compliance with this requirement, minister of state for environment and forests Jairam Ramesh recently announced that India will submit its domestic goals to the Conference of Parties of the UN Framework Convention on Climate Change.
The ministry has also announced 24 initiatives in five broad areas: science and research, policy development, policy implementation, international cooperation and forestry.
India's gesture will signify a good faith commitment to adhere to and follow up on the Copenhagen Accord. At the same time, it is important to reflect on and have clarity on the implications of this gesture, and develop a consensus around such understanding.
This is important in view of the Accord's requirement that once a country notifies the kinds of action it would take, these would be subject to external scrutiny.
Greater clarity on this aspect is needed in order to understand the nature of scrutiny, its implementation and consequences.
While a robust implementation system for any legal instrument is an important aspect for all stakeholders concerned, it is important to ensure that any external scrutiny of domestic compliance does not become an intrusion into sovereign decision-making.
This is particularly significant in the context of climate change-related initiatives at the domestic level which are structured as goals, action plans, statements of intent or funding initiatives, and not as binding regulatory requirements.
Any external scrutiny would, therefore, need to account for adequate domestic flexibility in implementation of such initiatives, based on each country's capabilities and resource-related concerns.
In this regard, the Accord draws a distinction on the level of international scrutiny over domestic actions which have access to external assistance, and those which do not.
The nature of obligations that will, therefore, devolve on India and other developing countries under the Accord are as follows:
Category 1: Un-supported Mitigation Actions and Evaluation: Developing countries are required to commit to a set of mitigation actions in a prescribed form, whether or not these are supported. These are to be subject to reporting and communication requirements to the UNFCCC Secretariat.
These committed actions are to be further subject to international consultations and analysis under clearly defined guidelines.
Category 2: Supported Mitigation Actions and Evaluation: Mitigation actions for which developing countries obtain international support are required to be separately recorded in an international registry and such actions are to be subject to international measurement, reporting and verification requirements.
The Accord, therefore, clearly suggests two levels of scrutiny for developing country actions: a presumably lower level of international scrutiny for actions committed but not supported by international funding; and a higher level of MRV for those supported by international funding.
There are, however, no criteria or principles relating to these two forms of scrutiny, and this is an action item for the future.
Another significant aspect for future consideration that the Accord highlights pertains to financial resources and technology transfer. It states that developed countries would commit to jointly mobilise $100 billion a year by 2020.
The financial architecture for determining countries, projects and beneficiaries of such funding support is, however, not clear as yet.
Similarly, in respect of technology aspects, the Accord refers to the decision to establish a Technology Mechanism.
The actual aims and objectives, and functioning of this mechanism have, however, not been clarified.
Open issues and way ahead: The Accord states that it would be 'immediately operational', which raises concerns as regards its legal impact and value.
Despite the January 31 deadline, several critical aspects of the Accord as highlighted above, are left open for future decision-making: (i) the framework for assessing and scrutinising mitigation action by developing countries (through criteria for international consultations and measuring, reporting and verifying such actions); and (ii) establishment of the Climate Fund and the Technology Mechanism.
As India prepares to adhere to the January 31 deadline, an interesting legal question is whether countries can be asked to 'commit' to action by January 31, 2010 before the other action-points relating to finances, technology and mechanisms for measuring, reporting and verifying actions of countries, are put in place?
The Accord does not mention any specific sequencing, but it could be argued that the Accord is really a single undertaking of different obligations, which cannot survive independent of each other.
The nature of India's commitments on mitigation action would need to be closely linked to the nature of international scrutiny that these can be subject to.
Evolving the principles of such scrutiny in respect of action supported by international funding, and those taken independent of the same, is therefore as important as submitting a set of mitigation action-points to the UNFCCC.
If the government of India seeks to submit its action-points prior to the other aspects being addressed, it is important to clarify that the reported action-points are those which the government will make the best endeavours to implement, and that any principles of international scrutiny would necessarily have to take this into account.
The author is a Partner at Clarus Law Associates, New Delhi. Her focus areas include law and policy relating to climate change