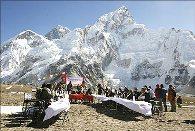 Anthropogenic global warming (AGW) and consequent climate change is perhaps the most contentious issue in the world today. At the centre of it all is the Intergovernmental Panel on Climate Change (IPCC), which collates the work of thousands of scientists, assessed through peer-review and approved by 192 governments.
IPCC's findings have led to consensus on the potential for disaster. But nations remain deeply divided on the actions necessary to mitigate AGW.  The policies mooted involve enormous, unevenly-spread expenses and opportunity costs.
AGW-deniers include free-marketers, who disagree with the policy prescriptions, and scientists, who debate the validity of IPCC findings. The opinions of the latter have been strengthened by a series of recent events.
Some months ago, a server was hacked at the Climatic Research Unit (CRU) of East Anglia University and over 1,000 e-mails and many research papers were placed in the public domain by the hacker(s). The CRU maintains the global land temperature record, from the 1830s to the present. The climate models of the IPCC are based on the CRU's work.
The hacked e-mails (which are authentic, though they may have been released out of context) seem to reveal a pattern of withholding information, interfering with peer-review processes, deleting information to prevent disclosure under the Freedom of Information Act, and selecting data to support the case for global warming. The Russian Institute of Economic Analysis, which is headed by Andrei Ilyaronov, who is Putin's former chief economic adviser, has published a paper, detailing how the CRU massaged Russian climate data.
 'Climategate' was followed by the revelation that IPCC's finding that Himalayan glaciers would disappear by 2035 was based on a New Scientist interview, and not a peer-reviewed paper. IPCC says that it is "one error in a thousand pages". It is nevertheless worrying, in that it reveals disturbing lack of rigour.
There have also been a series of personal attacks on Rajendra Pachauri, alleging that the head of IPCC and Teri has conflicts of interest. Without delving into specifics, it may be said that a wide range of industries stand to gain or lose from policies adopted on IPCC recommendations, and it is imperative that IPCC and Teri are seen as above corruption. 
A basic tenet of science - the difference between voodoo and science in fact - is falsifiability. A scientific theory is accepted only after it has survived testing in processes that replicate the original results, while unsuccessfully trying to prove it false. For that process to be rigorous, scientists need to share data and methodologies.
Climate science is a meta-discipline that draws upon many domains including physics, chemistry, meteorology, oceanography, geology, bio-sciences, botany, zoology and multiple engineering streams. The research has been done by independent, publicly funded academic institutions. Hence, there can be no apparent reason for not freely sharing data as the CRU apparently refused to.
In the wake of these incidents, and the attacks on Pachauri, it behoves the IPCC, TERI, CRU and other bodies working in climate sciences to review their internal processes. The peer-review and data-sharing mechanisms must clearly be strengthened.

Also, given the policy ramifications and political context, clear transparent guidelines for consultative work must be evolved and published to prevent such accusations from arising in future. It would be a tragedy if unchecked global warming destroys our habitat. It would be bathetic if it occurred for these reasons.

Image: Reuters