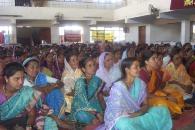 A help centre set up in a village in Jharkhand to help people claim their rights under the rural job scheme has showed results, writes Sreelatha Menon.
The key to successful implementation of many government schemes lies in a few ifs.
If a case is filed, or if there is some intervention, results are possible. It is particularly so in case of the National Rural Employment Guarantee Act (NREGA), which guarantees 100 days employment to rural households every year.
Take the 18 villages in Siladon panchayat of Khunti district in Jharkhand. This was the place where economist Jean Drèze found the scheme in a mess, with workers not being paid for the work they did under the scheme for as long as two years.
A case was filed under the Payment of Wages Act and workers got compensation and pending wages last year. But during this process, the scheme collapsed in the area. People stopped demanding work and work sites were closed.
So, Drèze and his associates camped there last year and set up a help centre, which put pressure on the local administration. That was in May last year. Six months later, in December, a survey found positive changes. Not only had work resumed, all mandatory facilities (shade, water and first-aid) were in place at many work sites.
At one work site, the investigators even found child-care facilities - a disabled person had been employed to look after the children.
A verification of electronic job cards (on internet) and a comparison with bank passbooks uncovered no evidence of any major fraud, which was a big change from the situation that prevailed two years ago. "This experience shows the possibility of significant improvements in implementation of NREGA in Jharkhand through public vigilance'' Drèze said in his report.
But the first 'if' in this story was filing of a case under the Payment of Wages Act that helped the workers not only get their pending wages but also a compensation of Rs 2,000 per worker. This has become an example that is being emulated by many social workers in other states.
A case under the Act has been filed in Madhya Pradesh and West Bengal. In fact, the Union rural development ministry has asked those who come under the scheme to adopt this measure freely. The other 'if' was the setting up of a help centre, which emboldened people to demand their rights.
But the centre could not eliminate all irregularities, though it empowered people to voice their complaints at a public hearing in December. While delays in payment of wages have become shorter, it still takes a month to get wages. Similarly, while the quantum of NREGA employment has risen sharply this year, compared with last year, it is still rare for a household to get work for full 100 days.
Again, while corruption is low due to payment of wages through banks, workers have to make long trips to the bank to collect wages. At the bank, they are often not treated with the respect shown to other customers. Their passbooks are also not properly updated.
At a public hearing in Siladon on December 29, workers demanded, among other things, a separate counter for NREGA workers. The Indian Overseas Bank's local manager, Dipankar Tudu, agreed to ensure that these demands were met. Here is one case where most ifs of the scheme have been removed through active intervention.
As for other places, the ifs remain.