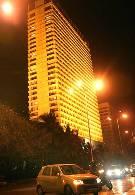 It has become old fashioned to be attached to your business, says Bhupesh Bhandari.
The Oberois of East India Hotels have brought in Analjit Singh as a white knight. ITC has acquired close to 15 per cent in the company - a few more shares to go for the mandatory open offer, and the Oberois could lose the business they have built painstakingly over three generations.
They have done what we have always expected all businessmen to do: Protect their company.
But that doesn't always happen. Some time back, I had asked Anand Burman if it hurt when Dabur Pharma got sold to Fresenius Kabi of Germany. He thought for a while and said, "No."
The answer, I must admit, surprised me. Dabur Pharma had been his baby from day one. He had made it a research-driven company, and Dabur Pharma was able to develop a niche for itself in the field of oncology. Not an easy task. Burman himself is a scientist.
He has over three dozen patents under his belt, and the best days of his working life, he admits, have been spent in a laboratory. It didn't hurt him to sell a business he built from scratch? I was stumped.
This perhaps is the new fact of business in India. It is no longer a matter of shame to build a business and then sell it for a good price. The Oberois could find themselves in a minority.
The idea of business, the argument goes, is to make money. So, if there is somebody who values your business more than you, what's wrong with selling it to him? Another argument says that if somebody else can run the business better than you, then let him do so; that's in the best interests of the business. It has become old fashioned to be attached to your business.
In the past, there were just a handful of serial entrepreneurs like C Sivasankaran or Amit Judge. Others would baulk at the idea of selling an asset they had built. (Some even drove their companies to sickness rather than turn it over to somebody else.
Of course, any reference to the Board for Industrial & Financial Reconstruction meant you got the creditors off your back.) I had once asked the late Lalit Mohan Thapar if he would ever sell his grand house on the banks of the Ganga near Hardwar to any hotelier; he almost choked with shock. But that's not what the new lot thinks.
Take the example of Ranbaxy. Bhai Mohan Singh, who bought the company from Ranjit Singh and Gurbax Singh in a distress sale, would often call it his fourth son, after Parvinder, Manjit and Analjit. Yet, his grandsons, Malvinder and Shivinder, sold it to Daiichi Sankyo of Japan for close to Rs 10,000 crore (Rs 100 billion).
Apart from some old timers who felt bad, most others complimented the brothers on the timing of the sale - the Ranbaxy stock fell soon thereafter. The family could never have made so much money had it stayed invested.
Merchant bankers these days are flooded once again with mandates to sell assets -companies, land, factories, brands et al. The list of sellers they mention will shock anybody.
These include some of the most venerated names of the Indian corporate landscape. Everybody knows that valuations are on a rebound and it is once again good time to sell.
So, expect some big names to change hands over the next couple of years. Buyers though are still cautious - the valuations demanded by sellers, they feel, have like in 2006 and 2007, become unreasonable. But everybody knows that it's just a matter of time before they arrive at an agreeable price.
This is a significant mindset change from the past. Family silver was never pawned or sold, no matter how dire the situation may have become. This perhaps is the reason why hostile takeovers were unheard of in India till recently.
There were never enough sellers in the market. In the mid-1980s, Swraj Paul came to India and found sitting ducks in Escorts and DCM. The promoters had small stakes in the company.
The Shrirams of DCM (it was called Delhi Cloth Mills before the raid) had, in fact, been merrily selling shares to pay the punitive taxes levied by the government. It was only after the raid was called off (after substantial government intervention, of course) that businessmen realised how tenuous their hold was over their companies.
In the new scheme of things, when promoters are ready to "unlock value", businesses have come to be structured differently. It's an open secret that the company has always been the cash cow for most businessmen.
The purchase function, for example, was always entrusted to a member of the family. I don't have to tell you why. The methods have now become more sophisticated.
My advice would be to check out who owns the real estate where the company's offices are located, and who owns the security company that has been hired to guard the factory?
The idea is that even if a company gets sold, a steady source of income should be there for the promoters.