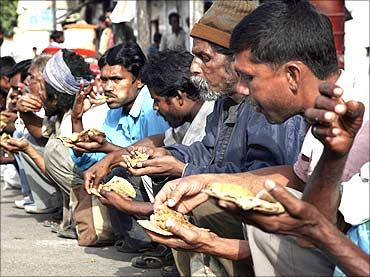 When a gurdwara serves food at a langar, everyone, including the head of the state, loves to eat it. But will proponents of community kitchens that are planned as part of the food security law want to eat at feeding stations meant exclusively for the poor?
If they would like to be seen eating at these kitchens, there may be something right with the concept. But, something must be wrong with a country which is willing to be fed like helpless beasts, driven by sheer hunger.
A migrant from West Bengal working in the national capital as a labourer was asked why she went to eat puri-subji at a feeding session organised by someone after a puja in East Delhi.
She said it was prasad, or offering to God. Asked if she would eat at the state government's community kitchen, she said only the most desperate would do so as even the poor had self-respect and did not want to be branded as poor.
At the Guruvayur temple in Kerala, the Madurai Meenakshi Temple and many other shrines, food is served for all and there seems to be no dearth of funds. The community provides the money to feed itself.
The Delhi government conducted its own experiment on feeding the poor. It expected industry chieftains to fund the plan but found them lacking in enthusiasm.
All of the 13 community kitchens opened in the city so far are run by a spiritual organisation, with just two private partners coming forward with sponsorships.
The government is now wringing its hands, wondering what to do about the scheme, called Apni Rasoi. It has to spend around Rs 2 crore (Rs 20 million) a year to feed over 100,000 people.
Things would have been different had the government tied up with gurdwaras or linked these kitchens to communities.
There are many wealthy people who like to feed the poor and do so. But should the government act like one of them, unless in emergencies?
Feeding programmes are held in countries that are drought-affected and poor. It is usually done by the communities themselves.
In Andhra Pradesh, for instance, such kitchens are being set up for pregnant women so that their health can be ensured.
If feeding people is shaming, can the same be said about subsidies? Whether shaming or not, it may be a better idea to prevent drought and scarcity than to create an infrastructure for giving alms.
Apart from teaching people to fish and making their catch remunerative, the right to food law may have to take a lesson from the failure of the Delhi government's Apni Rasoi scheme and the success of langars at gurdwaras.
It will have to find a way to link self-respect with feeding to make the food palatable and non-discriminatory.
Amid the doomsday scenario that these proposals create, the brightly-painted rickshaws in the rapidly-expanding national capital region are like a million flags marking the triumph of the poor who migrate to cities for a living. They don't want alms.
They need work and can find it without charity from anyone, least of all from the government.