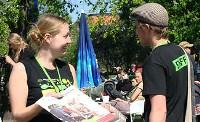 Why is the concept of de-growth gathering momentum in both activist and radical academic circles? Rajni Bakshi find out.
An unusual village festival has heralded the arrival of summer in Helsinki for the last ten years.
Last week's World Village Festival once again highlighted how the Finnish activists are intensely engaged in changing relations between the rich and poor countries.
Across Europe, there has been a string of 'de-growth picnics' organised by activists and environmentally conscious on the first Sunday of June.
Maailma Kylassa, World Village Festival, was created as a way of enabling affluent Finns to learn more about non-governmental organisations' efforts to solve problems of poverty, hunger, disease and illiteracy in the far corners of the world.
Scores of organisations flock to the festival to disseminate information about a wide variety of campaigns across the world, as well as to sell fair trade goods -- mostly food items and handicrafts.
This year a Finnish translation of Mahatma Gandhi's seminal work 'Hind Swaraj' was prominently on display at the stall of the Finnish publisher Into books.
Finnish government bodies were also present at the festival to showcase their work in southern countries. For example, a body called Local and Regional Government Finland had a stall where you could learn about their North-South cooperation programme for strengthening local governments 'towards a more equal world'.
When such activism first gathered momentum in Europe in the 1970s there was an element of charity – with citizens of the richer countries reaching out to help the disadvantaged in poor countries.
Relentless efforts by radical activists in these countries have rendered this attitude 'politically incorrect'. Now it is a case of citizens in Northern nations compensating people in the South for the lingering impacts of centuries of colonial rule, unfair trade relations and environmentally destructive industrialisation.
Since the red-alert on climate change the focus has shifted to a new kind of North-South collaboration to deepen democratic processes and demand accountability from both governments and corporations everywhere.
Such collaboration also involves an intensive search for solutions that are ecologically sound and fair to nations which are experiencing rapid economic growth with its promise of poverty reduction.
How then can it make sense to promote 'degrowth'? Why is this concept gathering momentum in both activist and radical academic circles?
In March this year, about 500 academicians and representatives of civil society organisations from 40 countries met at the second 'International Degrowth Conference' at Barcelona.
To those who regard more growth as the only answer to poverty alleviation any talk of 'degrowth' will sound not merely absurd but also offensive. Yet this may turn out to be an orthodox response to a concept that is still a bit futuristic.
Its roots go back to work done by Herman Daly, the father of ecological economics, while he was still working at the World Bank in the 1980s. Even back then, long before the climate crisis was fully recognised, Daly pointed out that relentless indefinite economic growth is neither possible nor desirable.
What is required instead is a 'steady state economy' - where human economic activity strives for a balance with nature's economy in ways that would reduce or eliminate waste. A substantial part of this shift would happen just by proper accounting of externalities which have so far been ignored and not paid for.
But that still leaves the key question unanswered: how to 'degrow' the economy, maintain jobs in the rich countries and increase jobs in developing countries.
It is the search for multiple answers to this question that energises an increasing number of people across the world.
Thus, the invitation to the first degrowth conference in North America, to be held later this year, calls people to join in a dialogue 'that will pave the way to creating a new framework of understanding'.
Clearly, this is a vastly ambitious undertaking. It is also unpleasantly complicated - compared to the days when well-to-do Westerners could just send money to a good cause in a developing country and feel good about it.
Now, they are being told what really matters is that they alter lifestyles to become more sustainable.
As the Finnish activist Marko Ulvila made clear in a speech he gave at the World Village Festival: people in developed nations must reduce their consumption substantially so people in developing nations can increase their consumption and the world economy can still hope to attain a form of steady-state balance.
This would mean rapid breakthroughs in eco-innovation and a new culture of consumption that is more focused on actual well-being and less on a celebration of the 'born to shop' culture.
This is the core mission of 'Democracy Forum - Vasudhaiva Kutumbakam', a joint platform of Finnish and Indian activists which is a registered organisation based in Helsinki.
It was members of this forum who, on a volunteer basis, collectively translated 'Hind Swaraj' into Finnish. Several of its Finnish members, who are members of the Green Party and Social Democratic Party, are carrying these values and concerns into mainstream politics both in Finland and in the European Parliament.
Of course a shift in political thinking is necessary but insufficient condition for the required transformation. That will take innovations in technology and management systems which could take many years, perhaps even decades, to develop.
What the 'degrowth' mobilisation aims to do is to raise appropriate questions and start new conversations about how governments and private sector enterprises could promote the right developments and create the best incentives to move the 'world family' in that direction.
However, these nuances are in the background. Thus, any mention of 'degrowth' triggers anxiety and opposition among both the already affluent and those aspiring to be affluent. This is largely why the Barcelona conference in April closed on an appeal to hold degrowth picnics all over the world on the first Sunday of June.
What better way to win support for this idea than over some food and fun - to show that its not about extreme frugality but wholesome well-being.
An entirely web-based mobilisation, the degrowth picnic appeal comes complete with a set of suggestions on how to go about organising such a gathering - try to involve the city mayor, advertise online and on radio, draw in business people, artists, students, journalists and more.
There is particular focus on these picnics celebrating local farmers, crafts and businesses which tend to have a lower ecological footprint. In some places picnickers are organising a degrowth contest that will enable people to compete at sharing ideas about how they can consume less and still increase joy and fun in life.
It will be hard enough for 'degrowthers' to win supporters in European cities. But the real test of this vision will be its ability to find at least listeners, if not supporters, spread across the 'global north' -- that is, in the affluent neighborhoods of Africa, Asia and Latin America.