It will be helpful advice for a chief minister-in-waiting who is going to have to deal with empty coffers and overflowing expectations!
Railway Minister Mamata Banerjee's opposition to divestment in Coal India and Hindustan Copper is difficult to fathom. There can be, it is true, two opinions on whether outright privatisation, strategic or otherwise, of profit-making state-owned enterprises is a good thing, be it from the viewpoint of workers, consumers or taxpayers.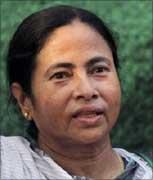 It should be acknowledged though that if an organisation grows faster after privatisation, workers tend to do better, investors and consumers benefit. Even if politicians are only worried about the rights of organised labour, and not those of taxpayers and consumers, most privatisation structures seem to have a clause protecting workers from getting fired.
We've seen that in the case of SOEs like Bharat Sanchar Nigam, Mahanagar Telecom Nigam, Air India, and many others, that the private sector has steadily and rapidly beaten them in market share, so it's difficult to see how stagnation in growth (often deceleration) that is associated with most SOEs can help protect the interests of labour, except for the small labour aristocracy that is employed in these units.
In the case of SOEs like BSNL, once seen as the only hope for telephony in rural India, we find that private players are doing a better job - both in terms of connectivity and providing rural jobs.
While there can still be an argument against privatisation of profit-making SOEs (though it is not clear why anyone would like to buy loss-making SOEs, unless there is land to get hold of!), disinvestment is an altogether different thing, especially if the stake sale is a mere 10 per cent, as in the case of Coal India.
For two decades now, successive governments have used disinvestment as a revenue-raising measure. For the firm concerned, there is the benefit of getting listed, since this forces the management to be more alive to what markets expect.
But for all practical purposes, divestment need not change SOEs' style of functioning. As has been seen in the case of the oil sector where SOEs continue to bleed, it is government policy that is followed, not market diktats.
Nor does divestment mean SOEs' labour policies change or that large voluntary retirement schemes will now be the order of the day. Divestment is being done solely to meet the government's budget needs.
Indeed, to that extent, the government needs to be blamed for carrying on with the policy of selling family silver to pay the day's food bill. But the point is that till allies like Ms Banerjee and various Congressmen themselves understand that they need to cut back on the gargantuan subsidy spending that doesn't even reach more than 20-25 per cent of the target audience, the government needs the money.
If Ms Banerjee is not going to allow disinvestment to proceed apace, then she needs to go along with the government and plan/approve cuts in government spending. One cannot have the cake and eat it too!
This earthy wisdom can be conveyed to her by her team of able advisors led by the likes of Amit Mitra and Bibek Debroy. It will be helpful advice for a chief minister-in-waiting who is going to have to deal with empty coffers and overflowing expectations!