Almost without exception, all ministers from non-Congress coalition partners of the UPA have been behaving as though they are a law unto themselves, writes A K Bhattacharya.
The trend is too obvious for anyone to miss. Almost without exception, all ministers belonging to the non-Congress coalition partners of the United Progressive Alliance government have been behaving as though they are a law unto themselves.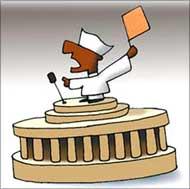 Worse, they appear to be unmindful of their failings as ministers and Prime Minister Manmohan Singh has invariably treated them with kid gloves.
Take for instance Railway Minister Mamata Banerjee. Her record of attendance at Cabinet meetings has been dismal. When she did attend the Cabinet meeting last Thursday, a few days after her party Trinamool Congress' thumping victory in the civic elections in West Bengal, she made sure that UPA's declared policy on disinvestment of government equity in public sector undertakings had some new hurdles to overcome.
Merchant bankers are a disappointed lot since even as late as Thursday morning, they were busy preparing for state-owned Coal India Limited's initial public offer, which was touted as one of the largest by any Indian company in recent months.
For them, it is a loss of business and opportunity, but for the Indian economy, it is a bigger setback for obvious reasons. A day prior to the Cabinet's decision to defer the disinvestment move, the government had even announced its plan to mobilise Rs 1,50,000 crore (Rs 1,500 billion) through sale of its equity stake in PSUs over the next five years. With ministers like Mamata Banerjee around, such goals appear very distant.
Why should we talk only about Mamata Banerjee? Sharad Pawar of the Nationalist Congress Party is the agriculture minister, but it will be hard for anyone to list any meaningful and significant initiatives that Mr Pawar has launched for Indian agriculture in the last six years he has been in charge of the portfolio.
There is a long list of pending reforms in the agriculture sector, but Mr Pawar is visible to the media more for his involvement in cricket than in agriculture. Yet, he continues to be a key minister in Dr Singh's Cabinet.
Praful Patel, also from Mr Pawar's party, began his tenure as the civil aviation minister with great promise. He initiated major reforms in the airport infrastructure sector, even though many of those moves were embroiled in controversy.
However, he was solely responsible for the manner in which he mishandled state-owned civil aviation companies - Indian Airlines and Air India. He may blame the government's reluctance to take bold steps such as privatisation, as recommended by him, but at the end of the day, he failed to find a viable solution to the problems that engulfed the two companies.
Communications Minister A Raja of the DMK has also been involved in many controversies over the manner in which the telecom sector got spectrum and licences. The prime minister recently admitted that government agencies were investigating the manner in which the communications ministry took certain decisions on the allocation of licences and spectrum.
That was not a clean chit to Mr Raja. Nor did it show that the prime minister was unhappy with his colleague's performance and conduct.
Indeed, Dr Singh's soft approach towards ministers belonging to smaller parties in the UPA has become evident on more than one occasion. And this soft approach has been attributed to the Congress' political need for keeping them in good humour and retaining their support to continue running the government. In other words, the Left is no longer part of the UPA in its second term, but there are other alliance partners like the Trinamool Congress, NCP and DMK, who continue to remind Dr Singh of the Left and pose hurdles in the effective and efficient performance of his government.
Why do the prime minister, and indeed the top Congress leadership, tolerate the tantrums of ministers from smaller coalition partners? If Shashi Tharoor could be sacrificed for his involvement in the controversy over the Indian Premier League, why shouldn't Dr Singh drop from his Cabinet a few of his troublesome and ineffective ministers from smaller coalition partners, or at least force those coalition partners to nominate alternative names?
Senior Congress leaders have an explanation for the continued tolerance of such behaviour of non-Congress ministers of the UPA. The Congress has only around 206 seats in the Lok Sabha. If the UPA government has to survive, it has to retain the support of the smaller coalition partners. If the non-Congress ministers fail to perform and that becomes obvious, the Congress party can go around and seek a larger mandate from the people in the next elections, arguing that it can offer better governance if it has the required majority in the Lok Sabha to form the government on its own.
In other words, allowing the inefficient ministers from smaller coalition partners to remain ineffective may be a subtle message to the electorate that if it wants better governance, it should send an adequate number of Congress members to the Lok Sabha to obviate the party's need for stitching together a coalition.
This would also eliminate the Congress need for depending on smaller parties for its survival and even tolerating their ineffective functioning and tantrums. This may sound a reasonable electoral strategy. But in politics, executing a strategy is as important as conceiving one. That is the real big challenge for the Congress party.