Emmanuel Upputuru presents glimpses of the global advertising contest in Cannes.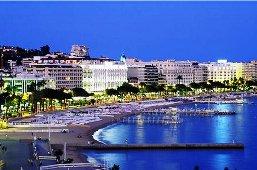 I landed at the Nice airport (pronounced niece) at about 8.45 am local time. The shortlists were going to be announced at 9 am.
I called my colleagues back in office to check the results online and tell me. But I then just switched off my BlackBerry and tried not to get worried about the awards.
In about 40 minutes, I was at Martinez, where I was booked for the week. I ran to the reception and picked a copy of the Lionsdaily, a Cannes publication that reaches every hotel every morning with the previous day's highlights and, of course, the dreaded shortlists.
I prayed that His will be done and opened. It was like board exams all over again.
My tense fingers spotted Ogilvy, Leo Burnett, Mudra a few times. I also found Bates, McCann, Creativeland Asia and Taproot a couple of times.
Where is Publicis? Where is Publicis? Finally in radio, two shortlists for Publicis Communication.
For Stedfast shredders. It's a whacky idea created by Raylin and Sudhir from my Delhi office. Produced and directed by Mukesh Jagoorie.
The spots are about what happens when someone very curious tries to piece together shredded information and reads out. What you get is hilarious non-sensical stuff. One is on JFK and the other on Roswell.
Overall, there are about 30, 40 shortlists for India.
In just a little time, we will know if Monday's shortlists in Direct, Promo, PR got converted into metals.
When I reached the Palais for the registration, I was welcomed by a huge crowd. Which actually turned out to be a big queue for the registration. It looked like the delegates had recovered from last year's recession and so has Cannes.
The last time I stood in a line like that was probably when I stood outside a ration shop in Delhi to buy rice and wheat. At least, this place is air-conditioned and the crowd behaved itself, with no one breaking the line.
One has to look back at the queue to see how far you have progressed - always a lesson in life.
I heard a couple of people chatting away. A girl from South Africa and a guy from Manchester. Both were working in independent agencies but were bought by Sir Martin Sorrel and suddenly became part of the same group.
I was tempted to tell them that three years ago, I too was in one of his companies, but let it pass.
By the time I got the registration, I was exhausted, so I took only a quick glimpse of the exhibition area, which displays all the shortlisted work.
Suddenly, I realised I had nothing in press, outdoor work for the first time since I started winning at Cannes way back in 1999.
I don't think I will be attending too many seminars today.
Though, at five in the evening, there seems to a nice chat about the history of advertising and our Piyush Pandey is on the panel. So, I will probably make it for that session, for old times' sakes.
There are other seminars I am looking forward to attend. And, one thing that is part of every presentation here is digital, one way or the other. I want to log in as much as possible.
In the coming week, I expect to get inspired, angry, motivated. Nervous I already am, since we only have two nominations to play with for the next couple of days. Still, who knows? Jesus needed only two loaves to feed a multitude.
Need a miracle.
So, don't go anywhere: we will be right back with more.
Emmanuel Upputuru, National Creative Director, Publicis India