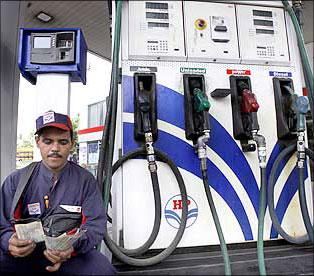 While consumers will, of course, be unhappy and the country's opposition political parties will exploit this unhappiness, the Union government had no option but to move away from the ancient regime of administered prices for petrol and return to the path of deregulation that the National Democratic Alliance government had, in fact, first opted for.
Sooner rather than later, it must also deregulate the prices of other petroleum products, including kerosene and diesel. Before moving to deregulation of the latter, it must at least take the steps it is now beginning to take of raising administered prices to more realistic levels.
There is no convincing case for subsidising petrol, even if there can still be some case for subsidising diesel and kerosene. These are all old arguments that have been gone through for over a decade now. It was the so-called 'R group', headed by economist Vijay Kelkar, a former petroleum secretary, that first laid out the road map for deregulation of petrol and petroleum product prices over a decade ago.
The argument is based on the simple principle that an import-dependent nation like India cannot afford to encourage excessive consumption of energy based on unrealistically low prices.
This does not mean there cannot be some element of cross-subsidisation in energy prices. The consumers of petrol can continue to cross-subsidise the consumers of kerosene. But this rational social measure must be properly administered so that kerosene is not mixed in petrol, as it continues to be.
While cost-based pricing of energy is a rational policy, there is always the case for some element of regulation based on the principle that volatility in international market prices need not necessarily be passed on to consumers.
In other words, some sort of mechanism by which the ups and downs in international crude oil prices get evened out is a sensible idea. But evening out the cycle does not imply fixing prices that have no relation to global trends.
The government must be complimented for finally showing some determination in biting the bullet on petroleum prices. It must now stand its ground and ride the wave of political protests that are bound to be staged by an Opposition waiting to return to relevance.
Indeed, a large part of the political problem that the government faces is of its own making. Both Mani Shankar Aiyer and Murli Deora, the United Progressive Alliance government's two ministers for petroleum and natural gas, had excessively politicised the process of energy price fixation. Rather than return to the path laid out by Dr Kelkar's 'R group', they chose to make energy pricing a purely political affair.
This has cost the government dear. Finally, the government has shown courage and good sense, helping the finance minister get the fiscal numbers he has promised.
Image : Petrol pirces deregulated. Photograph: Reuters