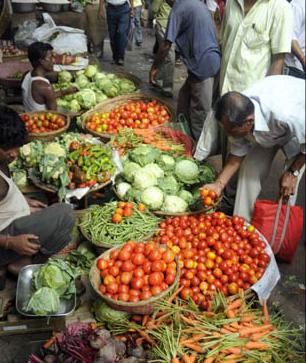 The aam aadmi has never been more hassled than he has been in recent times. With prices touching the sky, the common man's meagre resources are proving to be highly inadequate in battling the ever-growing monster of inflation.
The government has not been successful in curbing runaway prices for quite a while now and this has become a major cause for concern for the people. Rediff.com has always provided a forum from which the aam aadmi can air his woes and opinions on the various problems that plague him.
We are carrying open letters written to Prime Minister Manmohan Singh by ordinary citizens of India. The issue that we want to focus on for the moment is petro price hike and the consequent inflation. Here goes another letter to the prime minister:
Dear Dr Manmohan Singh,
It may seem irrelevant when I say that I was born in the same month and year as you. But I feel it necessary to mention this fact because it gives us a shared perspective of independent India's birth and its subsequent development.
Like you, I lost my mother at a young age. Like you, I entered India as a post-Partition refugee, though not from the Punjab, but from what is now Bangladesh.
Like you, I have witnessed the turbulence of the freedom struggle, and the terrible trauma of Partition, and, like you, I educated myself in the desperate knowledge that therein lay my only hope of rescue from a nightmarish life.
Of course, the comparisons end there. You became one of the world's most respected economists and are now one of its most admired leaders.
I retired from my small job as a school teacher two decades ago. However, since we are both citizens of India, I feel it necessary to address these few words to you.
I am worried about our country, Dr Singh. I am worried that we are not leaving it in safe hands. I am worried about the enemy within, far more vicious and damaging than the enemy without.
I am worried that, despite all efforts, India is regressing to the time when it was nothing more than a loose conglomeration of princely states, instead of a unified Republic.
Long ago, we were taught that a country gets the government it deserves. If that is indeed so, then we must deserve the largely venal, corrupt, incompetent, and shortsighted group of people we are forced to call our 'leaders'.
No offence to you, Dr Singh, but even you must see how close to collapse our political system is, and how the gap between the rich and the poor is increasing by the day.
At this rate, India's famed middle class will soon be a thing of the past, squeezed out of existence by constant inflation, plummeting incomes, rising unemployment, and the ever-present threat of internal terrorism.
As we are forced to become a Capitalist system, however, we find the State unable, or unwilling, to perform the duties of a Capitalist state.
We Indians pay among the highest taxes in the world, and yet, our standards of living are among the lowest. We know for a fact that whenever the government introduces a scheme, it will ultimately not benefit those it was intended for, because most of the funds would have been siphoned off by corrupt middlemen.
And you know as well as I, Dr Singh, that the corruption stems directly from the corridors of power which you walk.
The lack of transparency in your and your colleagues' public pronouncements is growing by the day, whether you talk about rising food prices or the Maoist threat.
At every step, we are aware that most of you are lying to us. The tragedy, Dr Singh, is that we must elect such people year after year, not because we want to, but because we have no option.
Why don't you take the initiative to make a public appeal across party lines for politicians to come together to fight India's battles? The people are with you on this, of that I am sure.
The advantage is, those who won't join forces with you will be seen as the enemy, but you must also ensure that your own party is with you. Tough challenge, but India needs drastic measures now, Dr Singh. You should know that better than anyone else.
The writer is Roma Bhattacharjee, a homemaker.